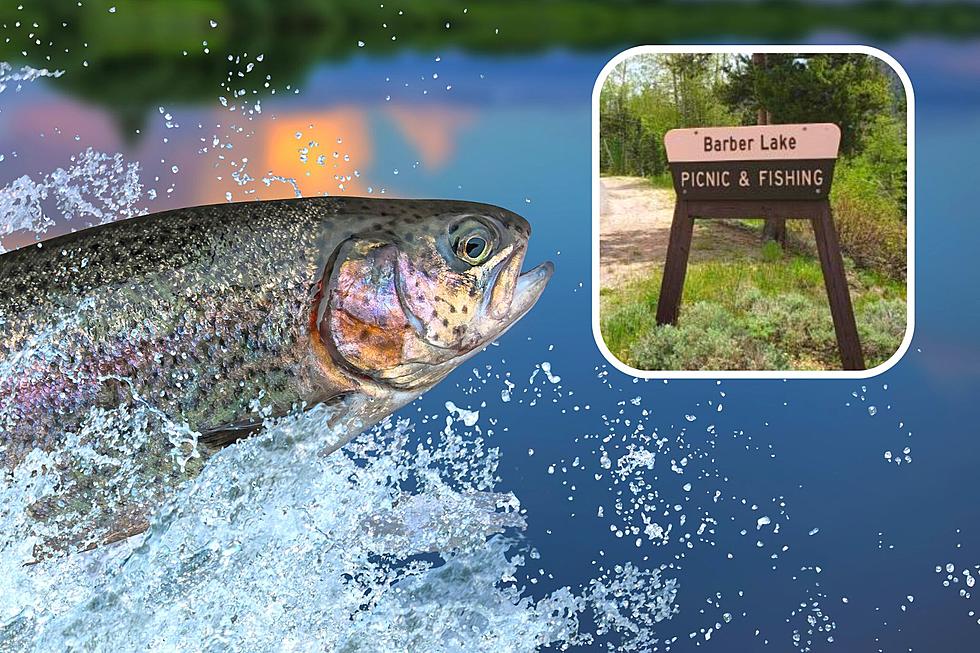 Stocked and Loaded! Barber Lake in the Snowies Ready for Reeling
Canva Pro/ USDA Forest Service - Medicine Bow-Routt National Forest & Thunder Basin National Grassland
Grab your poles and head to Centennial. For the first time since 2019, Barber Lake has been filled with water and loaded with fish. Earlier this month, it was stocked with 1,025 8.4-inch Eagle Lake Rainbow Trout.
No boat is required for the tiny treasure of Barber Lake; just walk up and cast in. 
The small lake, located in the Medicine Bow National Forest, is just past Centennial off of Forest Service Road 351 (Barber Lake Road). Thanks to a high-water year, the USDA Forest Service decided to fill and stock the popular lake located 35 miles west of Laramie. 
Wyoming Game and Fish noted that the lake is also handicap-accessible, making fishing available to more people.
While no formal creel surveys are done on the lake because water levels are so inconsistent, Game and Fish said it is a popular lake and are happy to see it in use again. The day-use area has a picnic area and is near two campgrounds and several trails. 
Day fishing licenses are available for $6 (click here for the 2023 Fishing Regulations Brochure), and the day-use fee for Barber Lake is $5, or an annual Forest Service or intra-agency pass. 
For more information on recreation in the Snowy Range and other surrounding areas, visit the Forest Service's website for the Medicine Bow-Routt National Forest and Thunder Basin National Grassland page.  
Don't forget to check in with Visit Laramie's Cowboy Character Challenge while visiting Barber Lake. The Challenge runs all summer, with prizes awarded for check-ins and outdoor stewardship. Click here for more information on the Cowboy Character Challenge. 
10 Tips to Keep Cool During Wyoming Summers
Suffering through Wyoming's hot weather and heatwaves can pose a risk to your health. The good news is, that there are a lot of ways to beat the heat and its effects.
More From Wake Up Wyoming