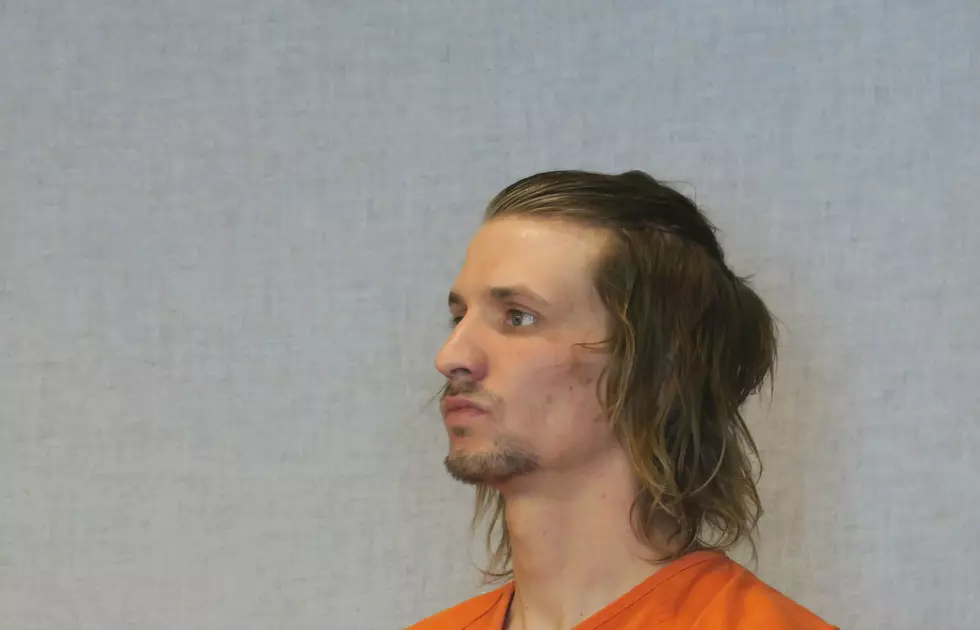 Breaking News: Andrew Steplock Convicted of Fatally Shooting His Mother
Tom Morton, Townsquare Media.
A jury on Friday found a Casper man guilty of all four counts charged against him in the fatal shooting of his mother.
The most serious charge, felony murder, is punishable by up to life in prison without the possibility of parole in this case, as prosecutors declined to seek the death penalty.
Natrona County District Attorney Dan Itzen declined to say whether he'd seek life without parole for Andrew Steplock.
It took jurors less than two hours to reach the verdict. Itzen credited that to a strong case and the work of detectives who investigated the homicide. The jury also convicted Andrew Steplock of second-degree murder, aggravated burglary and possession of a deadly weapon with unlawful intent.
The verdict marks the end of a five-day jury trial in Natrona County District Court.
When the trial began on Monday, Andrew Steplock's attorneys argued that he was mentally ill at the time of the shooting. However, a state psychiatrist said Andrew Steplock was competent.
Over the course of five days, jurors heard testimony from police detectives who investigated the scene. Albert Steplock, Andrew Steplock's father and Deborah Steplock's husband, gave testimony that he found his wife laying on the floor downstairs in their home.
At roughly 1 a.m. Feb. 26, Andrew Steplock broke a window on a back door in his parents' home. He walked in, saw his mother and shot her. He quickly left the house and drove to Colorado. A Larimer County, Colorado, SWAT team arrested Andrew Steplock as he slept in his car at around 11 p.m. that night.
On Wednesday, jurors viewed a video of Andrew Steplock confessing to shooting Deborah Steplock. He also told detectives in the video that he was in the home to steal money.
In the video, taken from an interview room at a northern Colorado jail, a Casper police detective asks Andrew Steplock if he knows why two detectives had come all the way to northern Colorado to interview him. Initially, he says he doesn't know. They press him.
"I killed my mom," he says.
Itzen said jurors began the week to hear about a cold night in February.
"We ended this week to talk about a cold murder," he said to begin his closing arguments.
Per her son's account to detectives, Deborah Steplock's final moments were terrifying.
Itzen described Andrew Steplock breaking into his parents' home. He walked into the kitchen and saw his mother standing there with her phone in her hand. Andrew Steplock knew that it was connected to a home security system.
Andrew Steplock shot his mother in the head from an extremely close range. The security alarm immediately sounded.
"And he runs, as many cowards do, into the night," Itzen told jurors.
Before Andrew Steplock fled, he checked another room for his father, Albert Steplock. Andrew Steplock told investigators that he probably would have shot his father too if he encountered him.
Albert Steplock was upstairs sleeping when the alarm went off. He ran downstairs to check on the commotion. When he doesn't see his night owl wife in her normal place, Albert Steplock runs back upstairs to grab something. He couldn't remember what.
On Tuesday, Albert Steplock testified that he found his wife laying on her back downstairs. At first, he hoped she'd fainted, but figured out she'd suffered a head injury when he discovered she was bleeding from her head.
Itzen argued jurors heard how calm Albert Steplock was when he called 911. Albert Steplock, a former heart surgeon, testified that when he discovered the severity of Deborah Steplock's injuries, she was no longer his wife. She was his patient.
"That makes a lot of sense," Itzen said.
Deborah Steplock was taken to Wyoming Medical Center, where she was placed on life support until her organs could be harvested, per her wishes.
Representing Andrew Steplock, Joseph Cole argued that his client was mentally ill at the time of the shooting. He discussed Andrew Steplock living alone in a warehouse. It'd been years since he sat down to have dinner with another person.
A few days before the shooting, Andrew Steplock was arrested for marijuana possession. Being in jail may have caused something to break, Cole said.
Andrew Steplock told police he thought his parents weren't home when he broke into their home. Cole argued that Andrew Steplock must have been delusional if he thought no one was home. Even if his parents were gone, one of his sisters would be at the house watching the dogs.
Andrew Steplock also told a psychologist who performed a mental health evaluation following the shooting that he saw demons. Those demons told him to kill his mother.
Itzen told jurors that Andrew Steplock would not have been able to recount events to police with precision had he been mentally ill. He wouldn't have had a plan to flee to Denver and live on the streets. Andrew Steplock wouldn't have been able to pull money from an ATM if he were mentally ill.
Deborah Steplock paid most of her son's bills. The morning before the shooting, she texted her son and threatened to cut him off. He'd apparently withdrawn money meant to pay bills and intended to use it for something else. They seemed to reconcile, however. At roughly 3:30 p.m. Feb. 25, she sent her son a text message saying she left groceries for him in his car. She planned to bring more over the next day.
Instead, shortly before 1 a.m. that night, Andrew Steplock shot his mother.
As daylight broke, Itzen said, Andrew Steplock was on the run.
"This is an extremely cold case. It's about a spoiled kid who wanted more," Itzen said. "He thought his revenue stream was going to be cut off.
"When it's said and done, that cold February night and that cold February morning were cold because of those actions he inflicted on his mother."

Enter your number to get our mobile branded app
More From Wake Up Wyoming