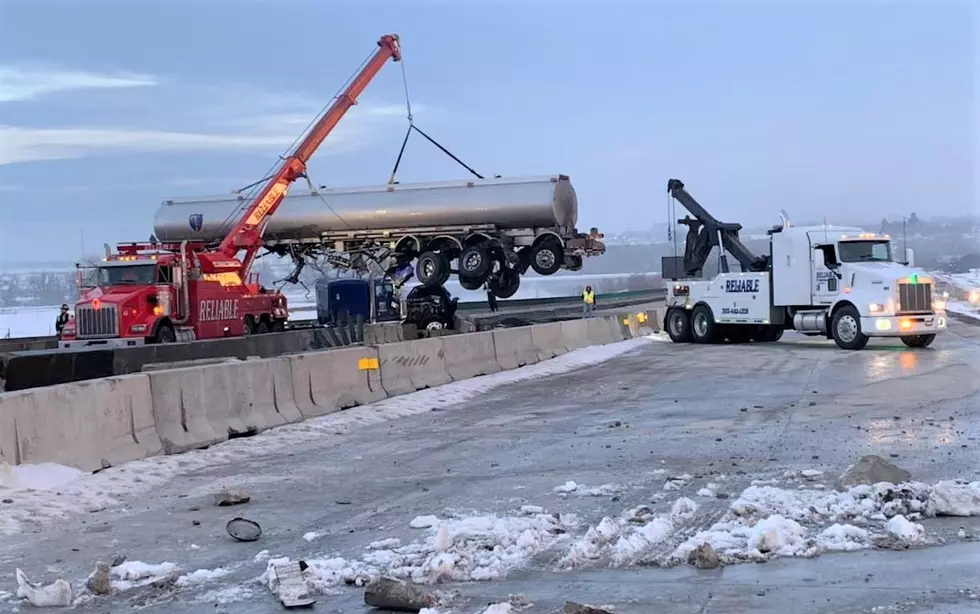 Driver Cited in I-25 Diesel Spill Accident
Credit: Loveland Police Department
The driver of the truck that caused a diesel spill of over 11,000 gallons in Loveland on Interstate 25 on early Saturday morning has been cited for careless driving according to CBS Denver.
Investigators believe that the driver, 67-year-old, John Brothersen from Henderson fell asleep at the wheel of the semi-truck at the time of the accident. Brothersen was seriously injured and was trapped in the cab of the truck at one point.

The crash occurred at 1:12 a.m. on Saturday morning near mile marker 225 in Loveland. The crash spilled 11,500 gallons of diesel fuel and closed the interstate in both directions for more than 36 hours. After the wreckage was removed, crews had to repave and restripe both sides of the interstate. The Semi-truck was on fire, but not hot enough to explode.
The Environmental Protection Agency was on the scene of the crash said that diesel fuel did spill into a drainage ditch and storm drain that leads to the Big Thompson River. Collection areas have been set up to see if any fuel will seep into the watershed. Joni Sandoval told CBS Denver "We're just not seeing anything that would lead us to believe that we have any concerns with the water right now".
Source: CBS Denver
Colorado's Safest Cities
More From Wake Up Wyoming