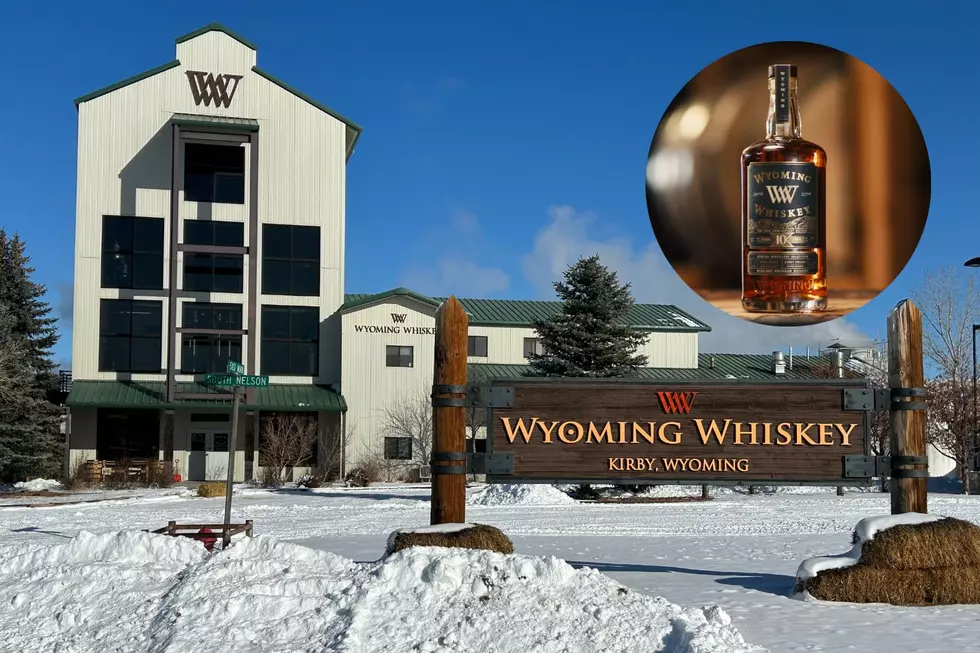 Here's How Wyoming Whiskey Celebrated 10 Years And New Location
Drew Kirby, TSM
It was a party that's been in the works for over 10 years, but it was a party for the ages in Kirby, Wyoming. Kirby is the home of Wyoming's first 'legal' distillery, Wyoming Whiskey.
Wyoming Whiskey began their journey when Brad and Kate Mead turned to David DeFazio to make bourbon. Like most adventures, there are times when the road gets bumpy, but you learn to navigate the road and make the necessary changes to make the adventure a success.
That's exactly what the crew at Wyoming Whiskey did. If you've been following the Wyoming Whiskey journey, you know with every batch it get's better and better.
In the beginning, the Meads & DeFazio turned to a Kentucky Bourbon Hall of Famer to get the process rolling. Steve Nally came to Wyoming to become the founding distiller and is responsible for getting Wyoming Whiskey on the map. Steve along with Master Blender Nancy Fraley, selected and batched the 10 year old rye bourbon that was released for the 10 year anniversary.
Today, the Wyoming Whiskey brand has grown to levels the group dreamed of when the adventure began. The distillery has a great location, with a remarkable staff that keeps the whiskey coming out of Kirby.
Wyoming Whiskey is made up of non-GMO grains from the Wyoming farm of Brent Rageth in Byron. He has been providing the grains since he was hired on by Steve Nally in 2009. Brent says he and his wife Sherri were super excited about being part of the Wyoming Whiskey journey, Brent said:
We've had a lot of fun with the company, the people are great. The company has been great and just very, very proud uh proud to be part of it and be fortunate to be part of Wyoming Whiskey.
Curtis Chopping, Distillery Operations Manager and tour guide for the day, said the process to make Wyoming Whiskey isn't an overnight operation.
It takes about 4 hours per cook, from there it takes about 4 days to ferment. At which point it's then distilled and barreled. It takes a minimum of 5 years before we were to pull any barrel for bottling.
Co-Founder David DeFazio also joined us on the tour and described the emotional journey. He told us we could taste the grainy mash that was fermenting and said when first batch mash bill was fermenting, he took time to take it all in...literally.
When the first batch was fermenting, I grabbed a bowl and filled it up with the mash and headed outside. I sat right out there there and ate the whole bowl.
For the 10 year anniversary celebration, Wyoming Whiskey threw a big all day party on Saturday December 3rd at their new tasting room/gift shop on Main Street in Kirby.
The day began with a line of folks raring to get their hands on a bottle of the 10 Year Anniversary Rye Bourbon, that has been aging since December of 2012. A food truck, the first public tours of the distillery since 2019, Justin Beasley & After The Rodeo Band played and friends & family gathered in an event that nearly tripled the population of Kirby.
If you're traveling to Thermopolis, Worland or just looking for somewhere to go....Kirby, Wyoming and Wyoming Whiskey is a great option. 120 E Main St, Kirby, WY 82430
The Wyoming Whiskey is made up of a staff that's dedicated to the cause.
Amanda Moeller is the Manager of retail and events
Nichole Martens is the Assistant Manager
Char Bartlett is in Guest Services
Jordan Hernandez Packaging Supervisor
Jason R. Brand is the General Manager
Curtis Chopping Distillery Operation Manager
David Evan lead Distiller
10 Year Anniversary Of Wyoming Whiskey
Incredible Road Trip Across Wyoming
The exploration of Wyoming continues and Drew jumped into the 'Gray Ghost' and set out on a trip to end up in Cody, Wy. Between Casper and Cody there are MANY great places to stop.
Awesome Wyoming Slang Words Deserve To Be In The Dictionary
More From Wake Up Wyoming