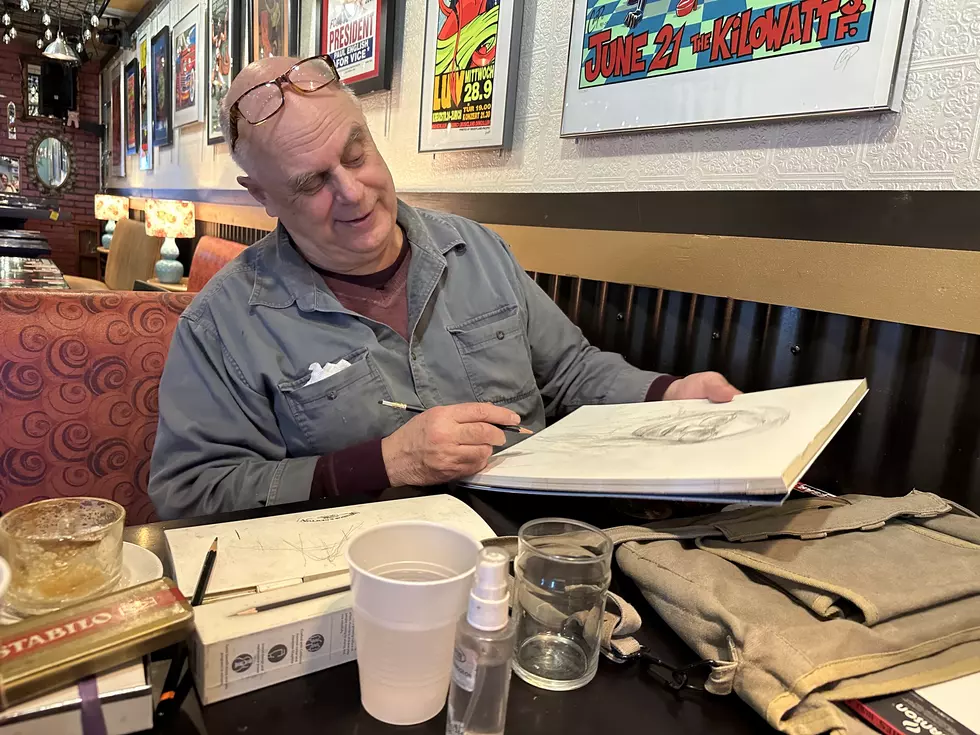 Casper Artist Reflects on a Lifetime of Drawing Faces
Tom Loepp Kolby Fedore, Townsquare Media
This is the second article in a series of write-ups highlighting local talent in Natrona County.
 

"You can get into a lot of trouble with noses."
I had a feeling I was going to enjoy chatting with Tom Loepp after our first phone call to set up a lunch date.
His cat Squish was howling in the background while Loepp explained that he was calling from a landline because even though he has a smartphone, he doesn't know how to work it.
It wasn't hard to find him at the Bourgeois Pig because he had brought along his art supplies, neatly setting them on the table before ordering a cappucino.
It's not easy getting Loepp to talk about himself. He's far more interested in other people--perhaps the mark of a good portrait artist.
"You'd think I'd get tired of them after a lifetime, but I don't," Loepp says of people.
He told me he grew up in the big tree neighborhood in Casper. As a kid he remembers drawing figures from comic books.
In the Seventies he went to New York City to draw people's portraits beneath the glow of the streetlamps.
He reminisces about being a little self conscious in the beginning, and accidentally ruining many coats on the subways when carrying still-wet paintings.
After thousands of portraits, Loepp says he's learned alot about people. He would've made a good psychiatrist or profiler.
"It happened so many times, I would start talking about something and there would be connections and they open up."
As we gab and sip, the artist sketches.
"I don't know what I'm doing," he says coyly.
You will learn in one quick google search that Loepp is more than a portrait painter. He is well-known for his cityscapes and paintings of architecture, too.
He once spent two winters atop the World Trade Center painting the Brooklyn Bridge, a project commissioned by a New Jersey law-firm.
There are parallels, said Loepp, to buildings and faces; bone structure and building structure, for one.
"What's next?" I ask.
"I'm going to start doing really good art, quit practicing. No more mediocritiy. No more cataracts. Nothin' but the best" said Loepp.
There's a playfulness to this last statement, a little humility sprinkled in with genuine self-discipline.
After a recent eye surgery he said he's going to be able to do much more.
By this time in the conversation our cups are empty and the portrait is done.
You can see more of his art at his instagram, look up thomasrloepp.
There are several of his portraits in ART 321 on display, and for sale, right now.
SEE ALSO: Casper Graphic Artist Reveals New Art and Creative Process 
Annual MLK Day March Beginning at ART 321
Small Business Saturday Tells A Tale of Two Cities in Casper
More From Wake Up Wyoming