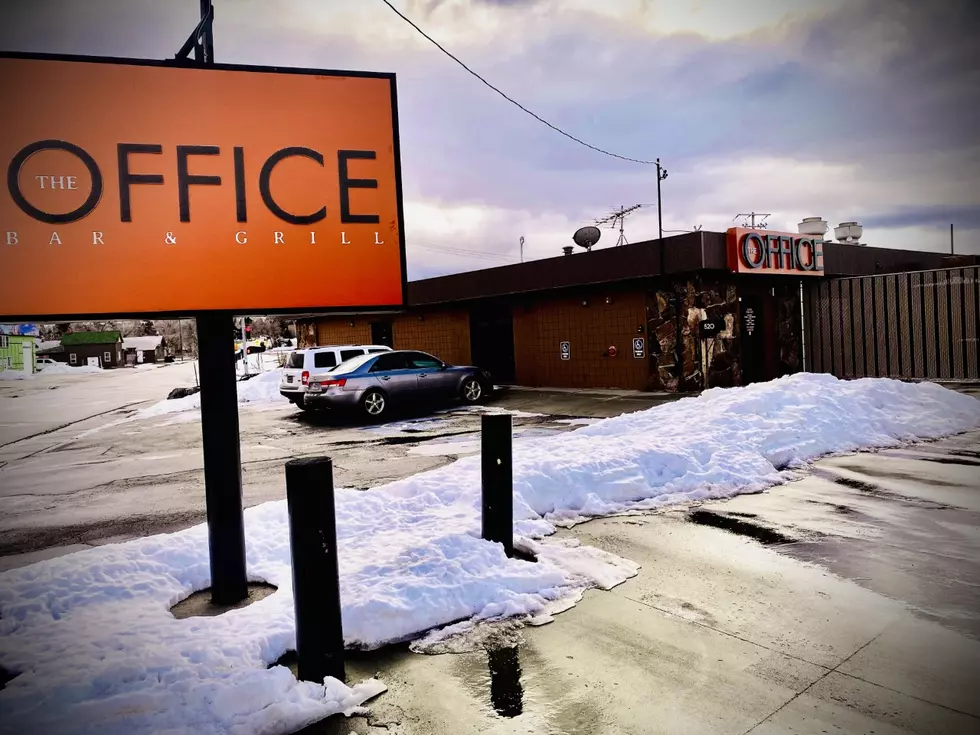 The End of an Era: Karen and Jim Kanelos Announce Retirement, Sale of The Office Bar & Grill
Nick Perkins, Townsquare Media
Every night I lie in bed,

The brightest colors fill my head;

A million dreams are keeping me awake

I think of what the world could be

A vision of the world I see

A million dreams is all it's gonna take

A million dreams for the world I wanna make

- The Greatest Showman
For 25 years, Jim and Karen Kanelos have owned The Office Bar and Grill (formerly known as Karen and Jim's). For 25 years, they have poured their blood, sweat, and tears into the restaurant and now, after more than two decades, they are retiring and selling the restaurant and bar.

But first.
It started with a dream. It wasn't Jim Kanelos Jr.'s dream, however - it was his father's.
Jim Sr. opened The Olympus and for years, the restaurant was a fixture in Casper, at the corner of CY and Poplar Avenue. In December of 1997, Jim Sr. sold the restaurant to his son, which named 'Karen and Jim's.'
Read More: The World We're Gonna Make: Jim & Karen Kanelos on 'The Office'
For twenty years, 'Karen and Jim's' was just as much a fixture of Casper as its predecessor. Known for it's Hollywood movie memorabilia just as much as its food and drink, 'Karen and Jim's' was a highlight of the area in which it was located. First, it was still at the corner of CY and Poplar. But in 2003, 'Karen and Jim's' moved to Downtown Casper, taking up residence on Ash Street.
It was one of the few places in Downtown Casper that people would actually want visit. This was before downtown became the destination in Casper. Back then, it was a place that you debated going to if it was after dark. Still, Karen and Jim's remained, and it was one of the few highlights of that area of town.
In 2018, Karen and Jim's was re-branded as The Office Bar and Grill, and that is what it's been known as for the last five years.
"We came down here in 2003 when we bought this building," Jim told K2 Radio News. "And we did our first remodel. And then, in 2016, the State came to us and wanted to buy us. We asked them what they wanted to do with it, they told us, and we said we'd be fools to sell. But we did a remodel and called it The Office."
The Office re-opened in 2017 after an extensive remodel, just in time for the rest of the world to descend upon Casper. 2017 was the Year of the Eclipse and for the first time in a long time, Casper was in the public spotlight, because it provided such ideal viewing conditions for the Eclipse. The Office and several other businesses knew that this was the time to really cement Downtown Casper as a destination, and that's exactly what they did. The Gaslight Social opened up. David Street Station was built. Numerous shops and other eateries opened their doors. It was, truly, the genesis of Downtown Casper.
"Everyone was competing to get employees and be ready for the eclipse," Jim stated. "We opened up on May 1st. We took four months for our remodel and then boom - everyone's open. Obviously it was a great year that year; the eclipse was amazing. And now, I see so much going on with downtown. I think there's going to be a hotel soon. And I think there's going to be a lot more living options. I just see more happening, and it's just gonna keep growing."
So why, then, would Jim and Karen choose to retire now?
It's a simple answer, really: because they want to.
"This was our best year ever," Jim revealed. "We've been very fortunate and it's been an amazing ride. We never knew when we would retire; we just knew there'd come a day when we'd just know. So this time, we felt like, 'Why not go out on top? Why not go out on our very best year?"
So, that's what they're doing. But they're hoping the transition will be an easy one.
"What I would hope happens is that we'll stay open the whole time," Jim said. "We'll just keep working like we are and what we would really like to see is that, when a person buys it, it just doesn't miss a beat."
On whether they want the new owners to revamp the restaurant, Jim said "Why fix something that's not broken? It's a successful business. We really want to see the new owners succeed and we want them to take The Office and fine tune it, but learn from us. Let us show you how it works, and then fine tune it."
Jim said he does understand if the owner would want to make the restaurant his or her own. But The Office has built up a lot of equity, however. It's a brand that works; one that people are familiar with, one that has history and, most importantly, one that makes people think that when they walk through the doors, they're home.
Jim said that he fully intends to help the transition to the new owner go as smoothly as possible, as well.
"If we sold it on a Friday, I'll see you there Saturday morning to show you how everything works," he said. "And we'll be open Saturday at 11 o'clock, just like normal. That's what I anticipate. I anticipate that not even one day we'll be closed. We want the transition to be easy. Because it's a tough business, but if you take care of it, it takes care of you."
Jim and Karen have taken care of The Office for more than 25 years. Jim has been taking care of it all his life. Before he was the owner, he was the owner's son. And, with that, came a lot of restaurant education. He washed dishes, he waited table, he scrubbed floors, he did it all. And, in doing so, he grew to love the restaurant, and the restaurant business as a whole.
It's where he grew up. It's where he went to school. It's where he bonded with his father and it's where he got his first date with Karen.
After continually asking Karen out, with her telling him no, Jim was starting to lose hope that he'd ever get the girl. But finally, one night, she came into the restaurant and asked specifically for him.
"She came into the restaurant one night and asked if I was working," Jim said. "I went out and saw her and went 'Wow, she could have gone anywhere, but she came here and asked for me? Alright, one more time.' So I asked her out a fourth time."
"Finally she said yes and then she wanted to marry me right after that," he added.
He said that last bit with a smirk on his face, but it's not that much of an exaggeration.
Shortly after they began dating, Jim asked Karen if she wanted to work at the restaurant with him. She said yes, and they've never left.
But now, 25 years after opening Karen and Jim's, the restaurant's namesakes want to actually spend time with each other outside of the walls of the bar and grill.
You may be right, you may be wrong
But say that you'll bring me along
To the world you see
To the world I close my eyes to see

- The Greatest Showman
"I just want us to be together," Karen said. "Because he's days, and I'm nights and we're both so busy, we hardly see each other. So we're like, 'You know, we're getting older but we're both healthy, so let's go out on top. Let's enjoy each other now.'"
And that's exactly what they plan on doing. No matter what life as thrown at Karen and Jim for the last 25 years-plus, they've always taken it head-on. They've always welcomed change with open arms. They've always grown, always learned, always evolved.
And, most importantly, they've always done it together. But now, it's time for them to enjoy each other. They've earned their rest. Even their children think so.
"Our children have seen the time we spend there and the time we spend apart, and they know how hard we've worked," Jim said. "They've seen it all their lives. And they're just as happy as we are for our future."
The future can be a scary thing. Change always is. But Karen and Jim have earned the right to enjoy their lives. And that's what they intend to do. They're going to travel, they're going to rest, and they're going to relax. They're going to enjoy the fruits of their 25 years of labor. They'll miss the business, sure. But they're excited for what's to come.
The hardest part, both Jim and Karen said, is leaving their employees.
"The hardest part in making this decision is having to tell our employees," Jim revealed. "Because they have been so amazing to us. We have a quite a few that have been with us since the way we opened as The Office. I've had one guy that's worked for me for 18 years. We've tried to treat our employees almost like our children in a sense. We lecture them all the time. We lecture them in a very positive way, to better their lives and their future. We try to teach them to have good debt, not bad debt- like working towards buying a house, fixing your credit, buying a a car at a good interest rate."
They've been teaching those lessons for decades and many of their employees have grown up right in front of them.
"We always tell them that we'll work around their schedule so they can go to school," Jim continued. "We work around everybody and really try to accommodate them as much as we can because what they give back to us is priceless. We've had some amazing people for us in the front of the house and the back of the house. We've been very blessed by the people that have worked for us. And we've always tried to give them that great atmosphere to be that better person."
And, likewise, their employees have taught both Jim and Karen how to be better people, as well. They've learned just as much as they've taught from their employees.
"If I could tell them one thing, it would be that I hope you work as hard for the new owners as you have for us," Jim said. "And we'll always be around. You can always contact us or visit with us, because we care about all of them. They've always been an important part of our lives, because you're around each other all the time."
Their employees really have served as their children, in a sense. And Jim and Karen hate to leave them but, they wouldn't be leaving if they didn't know that their team would be just fine without them.
"We love you so much, but we have to," Jim said. "We have to. It's that time. And actually, as far as I'm concerned, you're going to have a great opportunity here, because the new owners are really going to rely on you and need you. And there might be some doors opening for you as well; some management positions and such. And you're going to be the key in helping carry the new owners through their journey of The Office Bar and Grill."
Needless to say, their employees feel the exact same way.
"There will never, ever be another Karen and Jim," said K. Rayne, an employee of The Office
"No other boss will treat their employees the way Karen and Jim treated us," Sierra Wilkes-Judkins said.
"They're all-around amazing people," Kyra Lewallen stated. "This is, by far, the best job I've ever had. I'm not looking forward to them leaving."
Neither are The Office's patrons. It will be hard for the customers not to see Karen and Jim every night. For the last 25 years, one of them have always been at The Office. They were as much a part of the restaurant as the decor. So it will be hard, at first, not to see them every day. But, Jim said, they'll still be around. And they will miss the community just as much as the community misses them.
"Thank you," Jim said. "You're what made us successful."
"You're what made us enjoy this journey," Karen added.
"Every single one of them," Jim continued. "For me, personally, the last six years have been amazing. Before, I was always in the kitchen. But I got to where I really loved being out front and visiting with people and seeing their faces and talking with them, and making sure that everyone's experience was as good as it could possibly be. So I'm going to miss a lot of the customers, all the faces. And teasing with them or joking with them or just having a serious conversation. It's gonna be different, you know?"
But, different isn't always a bad thing. Sometimes, different is a very good thing. And this new journey will be a scary one. It will be a leap of faith. But both Karen and Jim know that, as long as they leap together, it doesn't matter where they land.
"We've been married 31 years together, almost 32," Karen said of her husband (who will be hearing/reading this for the very first time). "He's my partner in life. And I just feel so blessed to have had this journey with him, and I'm super excited for the future where we can actually enjoy each other and other things, other than just working. He's literally been the best partner in this life. The best father, the best the supporter. He's literally the best."
Jim feels the same way about his bride.
"You've been an amazing partner, an amazing friend, and the most amazing wife a man could ever ask for," Jim said of Karen (who will also be hearing/reading this for the first time). "I look forward to starting our new journey together and making more incredible memories. And I couldn't have picked a better person. You know, I used to always joke with Karen and say, 'You know, I don't need to get you Christmas presents, because every day with me is Christmas. And she'd always say things like, "You won the lottery when you met me.' So our feelings for each other are mutual and so strong. And I just, I look forward to our new life."
That new life will begin as soon as The Office is sold. That won't be an overnight process, but they do expect that it will sell soon. The Office is a fixture of Downtown Casper. It, along with John Huff's Yellowstone Bar and Grill were like the Godfathers of Downtown Casper. They saw the potential before anybody else did. Undoubtedly, someone else will see the potential of The Office, and they will take it to even greater heights. Hopefully, they will do it with the same energy, the same passion, the same love that Karen and Jim did it with.
Because that's what made The Office stand out in the Old Yellowstone District. It wasn't just the food, nor the drinks, nor the decorations. It was the passion that Karen and Jim invested in the place. It was the joy that was palpable as soon as you walked in the door. It was the world they made together, and included others in. It was Jim, stopping by your table to ask about your kids. It was Karen greeting you with a smile and making you feel like she'd been waiting all day, specifically for you.
It was the love between the two that made you believe in fairy tales, in love stories, in happily-ever-afters...
It was their love, their story, that made you believe in, well, fate.
For real estate listings and updates, visit The Office Bar and Grill Facebook page.
The Office Bar and Grill Through the Years
For 25 years, Jim and Karen Kanelos have poured their blood, sweat, and tears into the restaurant and now, after more than two decades, they are retiring and selling the restaurant and bar.
More From Wake Up Wyoming