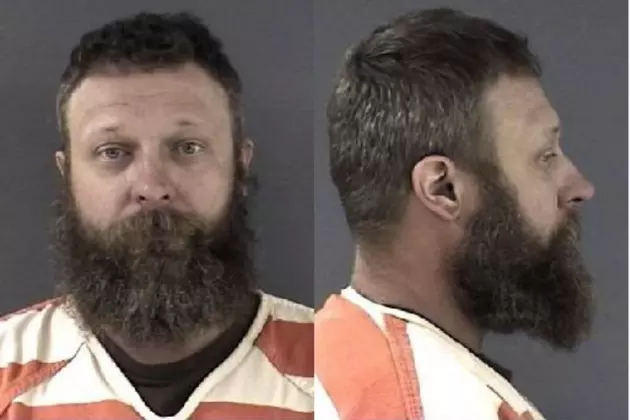 Cheyenne Man Accused of Threatening to Kill Woman With Hatchet
Laramie County Sheriff's Office
A 40-year-old Cheyenne man is facing a felony charge after allegedly threatening to kill a woman with a hatchet.
According to a booking sheet, police were called to a reported verbal domestic in progress around 11:30 p.m. Monday, Aug. 28.
Police say the reporting party stated she and another person drove around the block a couple of times and when she attempted to go to her apartment door Jeston Freeman came out of nowhere stating, "I'm going to f------ kill you, you c---."
The woman reportedly told police Freeman had his hand raised about his head and was holding what she thought might be a hatchet.
Police then went to contact Freeman and arrived to find him rounding the corner of the apartment building with a knife in his hand.
Police say when Freeman saw them, he threw the knife to the side.
Police say Freeman told them that he threw all of the woman's property onto the sidewalk, but they located it in the middle of the street.
Freeman also reportedly told police that he never threatened the woman, but said that he was upset that she and the other individual kept circling the block and had told her to "f--- off."
Police say while they were speaking with Freeman they located a hatchet in the front yard close to where he was located.
Freeman was sent inside his apartment while the woman came to pick up her stuff, but police say after she left, Freeman refused to come back out to speak with them.
Police say while they were attempting to get him to come out he punched a window in his bathroom, cutting his left hand.
Freeman was subsequently arrested and charged with aggravated assault.
He's currently out of jail after posting a $3,000 cash bond and is scheduled to be back in Laramie County Circuit Court for a preliminary hearing on Sept. 6 at 1:30 p.m.
LOOK: What major laws were passed the year you were born?
Data for this list was acquired from trusted online sources and news outlets. Read on to discover what major law was passed the year you were born and learn its name, the vote count (where relevant), and its impact and significance.
More From Wake Up Wyoming