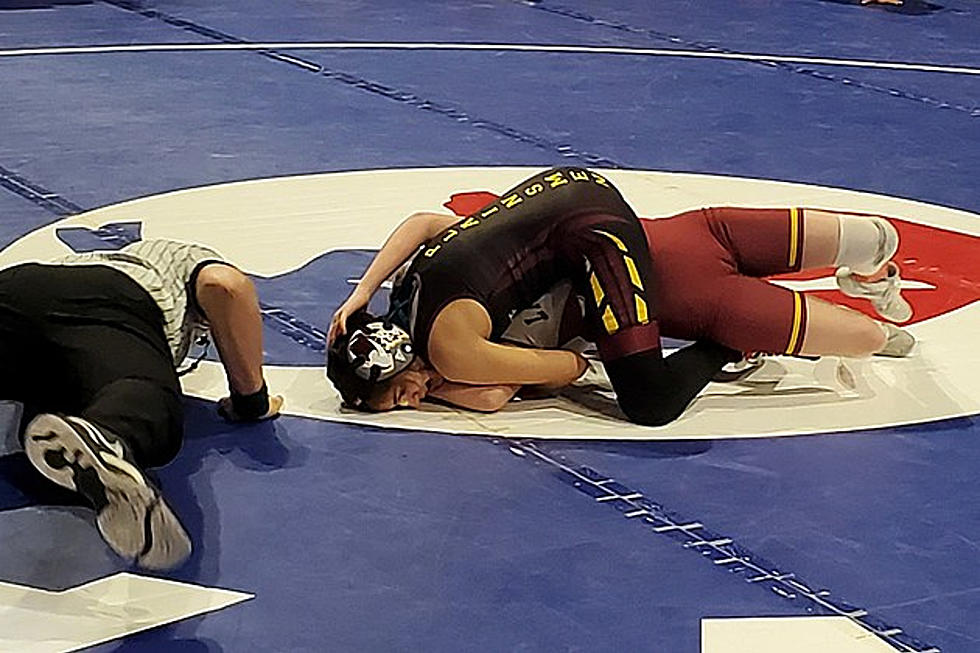 Laramie's Guzman is Wrestling for a State Title
Frank Gambino, WyoPreps.com
Laramie's Avianca Guzman will wrestle for a state championship on Friday in Casper.
Guzman won all three of her matches on Day 1 of the inaugural sanctioned Wyoming High School Girls Wrestling State Championships.
The sophomore won by tech fall in her first match and then pinned her next two opponents to reach the finals on Friday night. The championship matches start at 7 p.m. at the Ford Wyoming Center in Casper.
As a team, Laramie is in the middle of the standings with 26.5 team points.
The two other girls' wrestlers for LHS are done. Kimmie Ledford went 1-2 at the state championships, while Ava Zellmer was 0-2.
The Laramie Plainsmen have 14 wrestlers at the state championships in Casper. They start today (Friday) with five rounds of wrestling, and then will finish with four rounds on Saturday, which includes the championship matches at 3:45 p.m.

Laramie Nordic Skiing
Laramie is at the 2023 Wyoming High School Nordic Skiing State Championships in Jackson this weekend.
The first race on Friday is a 5km classic race. The second race is on Saturday, and it's a 10km freestyle or skate race. The top skiers, Eliza Fay, and Jack Voos have a chance at individual titles this weekend.
Laramie Indoor Track
The final meet of the regular season is today (Friday) at the University of Wyoming's War Memorial Fieldhouse, as Laramie hosts the Last Chance Meet. Laramie is also recognizing their seniors at this track meet.
Their state championships are next weekend in Gillette.
Laramie Basketball
LHS heads to Cheyenne to wrap up the regular season at South High School against the Bison.
The girls' varsity game is at 5:30 p.m. followed by the boys' varsity game at 7 p.m.
The Laramie girls are 15-6 on the season and 2-3 in the conference. South is 1-19 overall and 0-5 in the 4A Southeast Quadrant.
In the boys' match-up, Laramie has an overall record of 9-12 and 1-4 in league games. The Bison are 4-16 this year and 0-5 in the conference.
KOWB radio will have live coverage starting at 5 p.m. You can listen on your radio at AM 1290, on the KOWB app, online at www.kowb1290.com, and on smart speakers.
Inaugural Girls State Wrestling Tournament
Inaugural Girls State Wrestling Tournament
More From Wake Up Wyoming