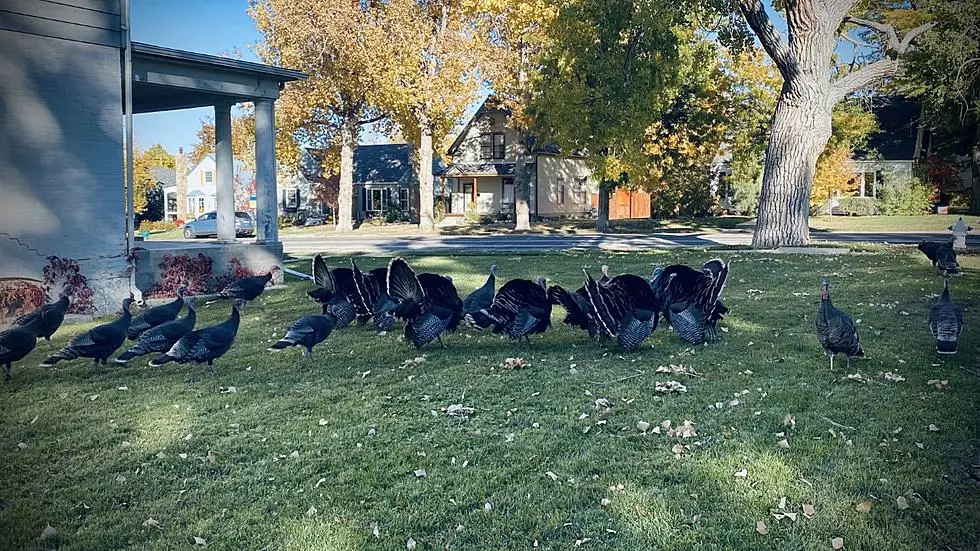 Let's Talk Turkey: Wyoming Game & Fish Discuss Turkey Problems
Nick Perkins, Townsquare Media
Let's talk turkey for a minute.

That's what the Casper City Council had to do on Tuesday, as members of the Wyoming Game & Fish Department spoke to the council about the issue of turkeys and how to rid Casper neighborhoods of them.
Brandon Werner, a Wildlife Biologist with the Wyoming Game & Fish Department, spoke on behalf of the department in regards to Thomas Gobbles and his gang.
"I came here to talk about City Ordinance 6.04.040," Werner said. "It states that 'It shall be unlawful for any person to provide shelter, feed, or otherwise entice any non-domestic animal to gather or frequent, with the exception of birds, squirrels, turkeys, and feral cats maintained by a keeper onto any public area or property of that person. I'm here on behalf of the Wyoming Game and Fish to ask to remove wild turkeys from that list."
Werner then referenced how many turkeys seem to find their way to downtown Casper neighborhoods.
"As I'm sure you've all noticed, the last few years, we've been having an explosion of wild turkeys in and around Casper," he stated. "They're really causing a lot of issues. We've had a lot of really good spring moisture, which makes really good nesting cover and allows the broods to really expand and the population could expand again in 2023. The Wyoming Game and Fish deals with a lot of calls. I have about 17 recorded complaints from in and around the Casper area just in 2022."
Werner said that some of the problems these turkeys are creating include leaving droppings on park trails, damages to houses and trees when the turkeys roost, aggressive turkeys, turkeys jumping on cars, slowing traffic, the possibility of disease transmission, and more.
"Artificially feeding these turkeys really congregates them," Werner said. "I'm not sure if you guys remember Thomas Gobbles. He was a famous turkey that had his own Facebook page. Now, I'm not sure what happened to him, he doesn't seem to be around anymore. That was, honestly, before my time. But feeding them really amplifies the damage that they cause."
Werner asked the City Council to consider amending the City Ordinance so as to not allow residents to feed turkeys anymore.
Mayor Knell said the council would be willing to have that discussion and asked for more information regarding the subject. He also said they would welcome public input as well.
Video of a gang fight between the Thomas Gobbles gang and others can be seen below:
WATCH OUT: These are the deadliest animals in the world
More From Wake Up Wyoming