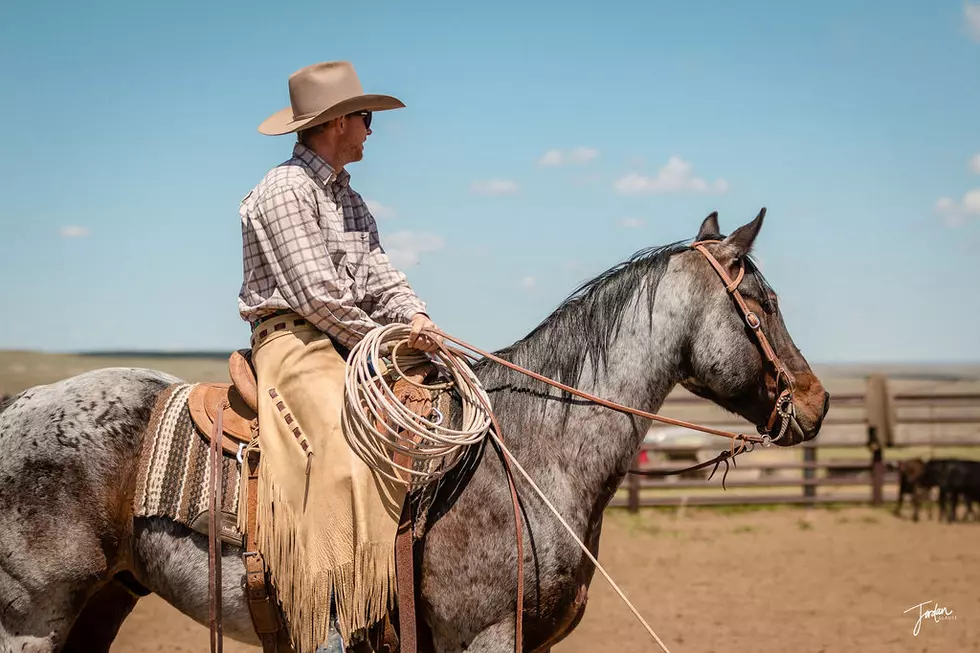 Introducing The Wyoming Cowboy Hall of Fame 2022 Inductees
Jordan Glause
Well, of course, Wyoming has a Cowboy hall of fame. Folks inducted into it go way back. They are the ones who have made the most notable contributions to the culture that is "The West."
According to the Cowboy Hall Of Fame website:
The purposes of the Wyoming Cowboy Hall of Fame are exclusively historical, cultural, literary and educational.  WCHF's chief goal is:  "To preserve, promote, perpetuate, publish and document Wyoming's working cowboy and ranching history through researching, profiling and honoring individuals who broke the first trails and introduced that culture to this state.  WCHF plans to collect, display and preserve the stories, and photos of such individuals and anything else that will honor and highlight their contributions to our history."
Inductees include both men and women going way back into Wyoming's history.
Interesting to note that this year, 2022, the entire Driskill family of Devil's Tower Wyoming was inducted.
The Driskill family were the first white settlers to the area To this day their ranch surrounds most of Devil's Tower, Wyoming.
Ogden Driskill serves in the Wyoming Senate.
Their family also owns the KOA Campground around the tower.
Here is the entries list of inductees for The Wyoming Cowboy Hall Of Fame 2022.
The Wyoming Cowboy Hall of Fame began as an idea among friends, Scott Ratliff, Jim and Paulette Moss, and Pinky Walter, in 2012, and the official 501(c)(3) and board was formed the next year. In 2014, the first official Induction Ceremony was held at the Fort Reno Building, at the Wyoming State Fairgrounds. In 2015, the Induction Ceremonies were moved to the Casper Events Center to handle the large amount of guests and to provide a central location for the Induction Ceremonies.

Wyoming is divided up into 10 geographic regions to localize inductee selections. Each region is made up of a member on the WCHF board, and a local committee to assist the board in selecting the honorees.

Nominations are taken from Dec 1 through Feb 28, inductee selections are made in May and the official Induction Ceremony is held in September.

 
THE CLASS OF 2022
CASPER – The Wyoming Cowboy Hall of Fame (WCHF) has selected 36 inductees for the Class of 2022
Region 1
Crook County:
Maurice Williams, Beulah
Driskill Family, Devils Tower. This family nomination includes Col. Jesse Lincoln Driskill, Jesse Lincoln "Link" Driskill II, John Wylie "Bud" Driskill, William Walter "Tobe" Driskill, Jesse Loring "Diddy" Driskill, Jesse Belvin "Buz" Driskill, Malcolm Franklin Driskill; Jesse Thomas "Tom" Driskill
Campbell County:
Charles L. Reynolds, Gillette
Rod Smith, Weston
Region 2
Goshen County:
Clyde Omar Stewart, Yoder
Wayne S. Hunter, Hawk Springs
Niobrara County :
Arthur Samuel "Artie" Joss, Keeline
Region 3
Albany County:
Philetus Rathburn, Fox Park
Laramie County:
Wayne and Francis Peavy "Biddy" Bonham, Federal
Region 4
Converse County:
Dennis Robert Daly, Douglas
Natrona County: Dee Burtch, Alcova
Region 5
Johnson County:
Robert Borgialli, Buffalo
Neal Rodney Schuman, Buffalo
William Thomas Wagoner, Buffalo
Sheridan County: Zane R. Hilman, Big Horn
Region 6
Big Horn County:
Joseph S. Bassett, Lovell
Park County: Chris C. Renner, Meeteetse
Region 7
Carbon: County:
Lua Burton Kelly, Medicine Bow
Frank E. Miller, Rawlins
Sweetwater County:
Bert Lamb, Washam, WY and Manila, UT
Charles Alfred Stillman-Philbrick and Elroy P. "Bronco Jim" Philbrick, Green River
Region 8
Fremont County:
Robert William Hamilton, Lander
Bob Bessey, Riverton
Clyde Woolery, Kinnear
Hot Springs:
Ramul Dvarshkis, Thermopolis
Larry Bentley, Thermopolis
Region 9
Unita County:
John H. Hamilton, Fort Bridger
Richard H. "Dick" Hamilton, Fort Bridger
Region 10
Sublette County:
Charles Leonard Priebe, Pinedale
Milford Byron "Mike" Steele, Boulder/Pinedale
Ivan Samuel "Pete" Hoagland, Big Piney
Carl Philip "Red" Mathisen, Daniel/Cora
Thomas Daniel O'Neil Sr., Big Piney
Kent Snedicor, Daniel
Teton County:
Bob Lucas, Jackson
Jim Maher, Jackson
Painful To Watch, Chugwater Rodeo Rider Caught Under Hoof
Harding ridding at the 2021 Chugwater Chili Cookoff in Chugwater Wyoming
Hulett, Wyoming's True Western Rodeo 2021
No glitz. No glamor. Just an authentic small town rodeo
More From Wake Up Wyoming