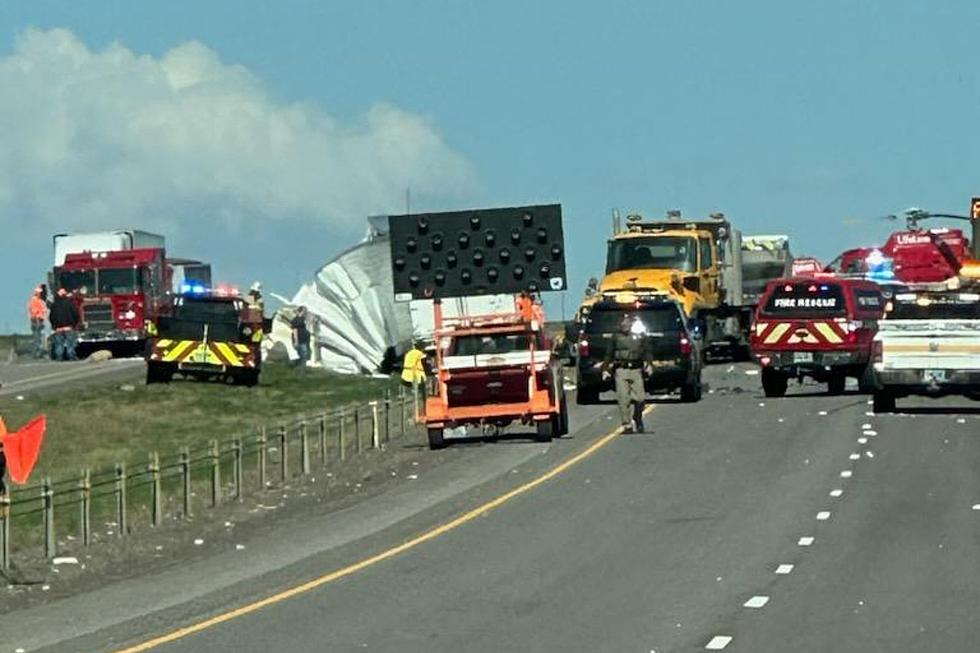 UPDATE: Injuries Reported in Crash on I-80 Near Cheyenne
Jared Newland
1:27 P.M. UPDATE:
WYDOT says the westbound lanes have been cleared.
---
UPDATE:
Wyoming Highway Patrol troopers are actively investigating a crash on Interstate 80 west of Cheyenne that currently has the westbound lanes blocked at milepost 346.
Sgt. Jeremy Beck says the crash happened around 9 a.m. and involved a commercial vehicle.
"We are aware of injuries," Beck told KGAB Radio. "I do not have the specific number of injuries at this time."
Beck says there could be traffic delays and possible detours as troopers investigate.
ORIGINAL STORY:
A crash west of Cheyenne has blocked all lanes of westbound Interstate 80 at milepost 346, according to the Wyoming Department of Transportation.
WYDOT says drivers should be prepared to stop and expect delays.

Drivers are encouraged to call 511 or visit wyoroad.info for the latest road closures and travel advisories.
READ MORE:
2022's Deadliest Wyoming County by Traffic Deaths
While car crashes can occur anywhere, some roads in Wyoming are more dangerous than others.
According to
Wyoming Highway Patrol
data, there were 117 fatal crashes in the Cowboy State in 2022 resulting in 133 deaths.
Of those fatal crashes, the majority (13.68%) occurred in Laramie County -- two in January, one in February, one in March, two in April, one in June, two in July, three in August, two in September, one in November, and one in December.
Sweetwater County saw the second most fatal crashes last year, 12, while Fremont and Lincoln counties each saw 10.
Albany and Park counties each recorded eight, and Campbell, Converse, and Natrona counties each tallied seven.
The deadliest 2022 crash in Laramie County took place on June 17 when two semis collided on Interstate 80 east of Cheyenne and immediately became engulfed in flames killing both drivers and a passenger.
Laramie County also saw two fatal crashes involving motorcyclists, two fatal crashes involving juveniles, and a fatal crash involving a pedestrian last year.
More From Wake Up Wyoming