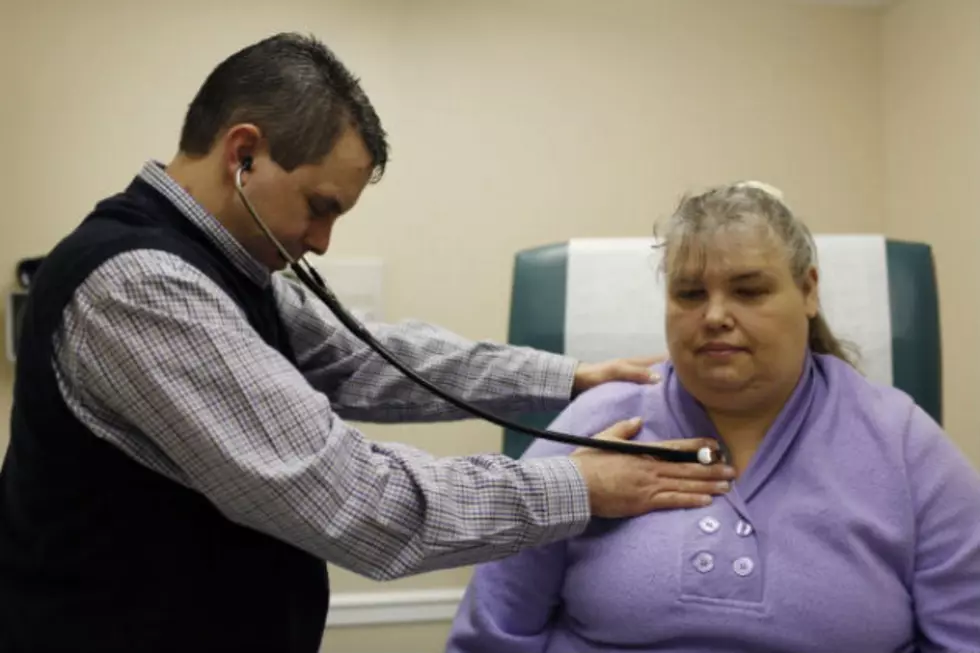 Wyoming Medical, Hospital Groups Laud Early Approval of Medicaid Expansion
Washington-Post-Getty-Images
Two leading health care organizations welcomed a legislative committee's vote in Cheyenne on Tuesday for a bill to expand Medicaid in Wyoming, bucking a years-long trend of rejection, their officials said.
"The times are different, and even though it was the right thing to do years ago, it continues to be the right thing to do, but maybe enough factors continue to change in the state that opinions are shifting and we're seeing the issue through a different lens," said Sheila Bush, executive director of the Wyoming Medical Society.
Josh Hannes, vice president of the Wyoming Hospital Association, said the vote -- despite its closeness -- was encouraging, and cautioned that it's just the beginning.
"It gives us an opportunity to continue to have the discussion," he said. "There are a number of steps in the process before we could actually see it implemented, and however that might end up looking, and I'm hopeful that we'll get there."
The Medical Society and the Hospital Association have been long-time supporters of Medicaid expansion, including the bill approved by the Joint Revenue Committee which probably will be introduced for consideration in the 2020 Legislature. Because this will be a budget session, a nonbudget bill needs two-thirds approval in both houses to be admitted.
Under the proposal, the federal government would pay for 90 percent of the cost of expanding Medicaid. But Wyoming would still be responsible for about 10 percent of the cost, estimated at around $33 million during the first two years.
State officials would work with the Centers for Medicare and Medicaid Services and the governor would present options to the Legislature, which would have the final say, according to the bill.
The expansion would cover the gap between those who earn too much money to qualify for traditional Medicaid -- the federal health insurance program for the poor -- but not enough to be eligible for ACA Marketplace premium tax credits, leaving them uninsured, according to the Wyoming Medical Society.
According to figures provided by the Wyoming Department of Health, about 9,000 people initially would be helped by Medicaid expansion and that number could grow to 32,000 in two years.
Hannes said that in turn could ease the burden of uncompensated care provided by Wyoming hospitals, which amounts to more than $100 million a year.
"Putting more people on insurance, and Medicaid is insurance, allows us to recoup some of those costs," Hannes said. "Those are dollars going back into our hospitals now where we can recruit additional physicians and other providers, where we can invest in our facilities and invest in developing better systems of care for patients that will actually help keep them out of the hospitals."
The lack of Medicaid expansion has not forced any rural hospitals in Wyoming to close, unlike in Texas and Georgia, but some are operating on thin or negative margins with little cash on hand, he said.
Opponents have said that the federal government could easily withdraw the expanded Medicare funding. Hannes said that's a bogus argument.
"There's no experience in the Medicaid program of that happening; since Medicaid has come into existence they've paid their bills," he said. "I don't take a lot of stock in the argument that they would shut this program off."
Supporters including Bush responded that amount would be dwarfed by the economic impacts that have moral consequences, too.
As Wyoming's economy continues to reel from changes in the minerals industries, Medicaid expansion would enable laid-off employees to access health care, she said.
The economic impact especially affects uninsured people who delay getting care because they can't afford it. When they have a health care crisis they access the most expensive care possible, which is an emergency room, she said.
Expanding Medicaid would stabilize that population by enabling them to have access to preventive care, Bush said.
That would be attractive to doctors considering moving to Wyoming, she added.
Bush, citing reports from the American Medical Association, told the Joint Appropriations Committee that the 875 physicians in Wyoming cause the creation of 8,547 direct and indirect jobs with an economic impact of $1.5 billion a year.
The stability that Medicaid expansion would bring to the state would enhance that economic benefit, she said.
"I think those are staggering numbers," Bush said.
More From Wake Up Wyoming