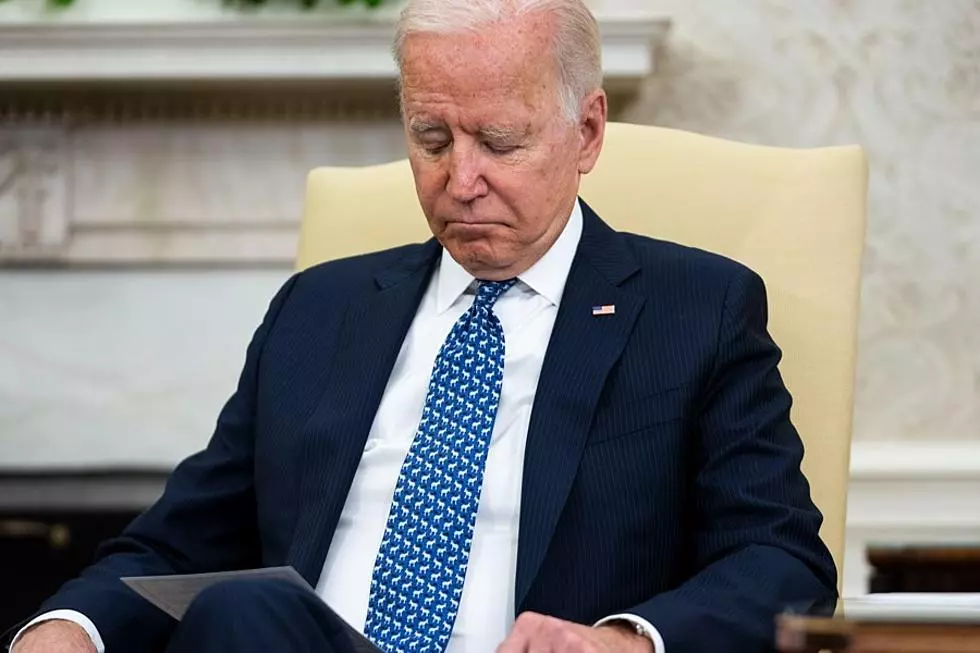 100 Reasons Why Wyoming Oil & Gas Producers Hate Joe Biden
Getty Images
In a recent article the American Energy Alliance (AEE), shows how President Biden and the leadership of the Democratic party have a plan for American energy:
make it harder to produce and more expensive to purchase. Since Biden took office, his administration and Congressional Democrats have taken over 100 actions deliberately designed to make it harder to produce energy here in America. (AEE).
The president and the Democrats currently blame Putin and his invasion of Ukraine.
But most of these anti-energy proclamations were enacted without any influence from Russia.
These items came directly from the Green New Deal agenda.
This is what is making energy harder to come by and more expensive.
So let's have a look at a few key points from the list of 100 items put out by the American Energy Alliance.
You can see the entire article and all 100 items the AEE published at this link.
Besides canceling the Keystone XL pipeline,
Biden also restored and expanded the use of the government-created social cost of carbon metric to artificially increase the regulatory costs of energy production of fossil fuels when performing analyses, as well as artificially increase the so-called "benefits" of decreasing production.
Biden issued an executive order announcing a moratorium on new oil and gas leases on public lands or in offshore waters
The EPA hired Marianne Engelman-Lado, a prominent environmental justice proponent, to advance its radical Green New Deal social justice agenda at the EPA, a signal to industry that it plans to continue its attack on American energy.
At the behest of the January 27th Climate Crisis EO, the DOJ withdrew several Trump-era enforcement documents which provided clarity and streamlined regulations to increase energy independence.
Biden officially rejoined the Paris Climate Agreement, which is detrimental to Americans while propping up oil production in Russia and OPEC and increasing the dependence of Europe on Russian oil and natural gas.
It also benefits China, which dominates the supply chain for critical minerals that are needed for wind turbines, solar panels, and electric vehicle batteries.
At Biden's Direction, Secretary of the Interior Deb Haaland revoked policies in Secretarial Order 3398 established by the Trump administration including rejecting "American Energy Independence" as a goal.
This list of 100 reasons is just the start. More is coming from the Biden administration and from the Democrat party.
Those in favor of shutting down coal gas and oil will continue to be in favor of it until it negatively affects their lives. Then watch how fast they change their minds.
The Largest Gun, Saddle & Oddity Museum In Wyoming
The old west is preserved with the largest collection of guns, saddles and rare western oddities at King's Saddlery & Museum in downtown Sheridan, Wyoming.
Look Inside The Saloon At The Virginian Hotel, Wyoming
These photos show a fraction of the history behind one of Wyoming's most famous saloons.
More From Wake Up Wyoming