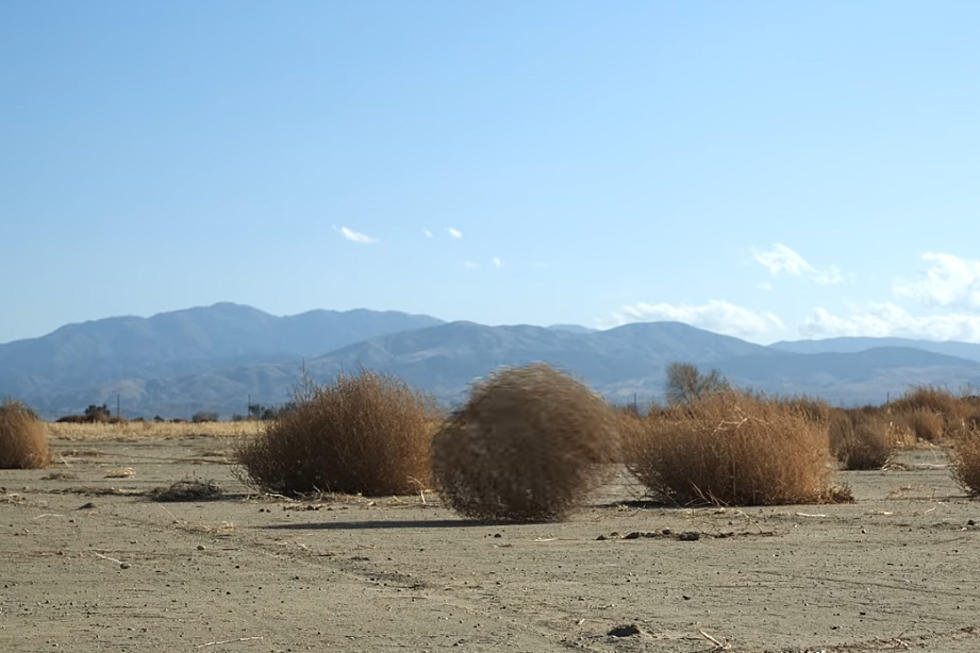 Blame Russia For The Trouble With Tumbleweeds
Deep Look via YouTube
When you think of The West, you might think of two cowboys meeting at high noon in the center of town, fingers twitching over their holstered pistols, a tumbleweed blows boy.
Well, first off The West was no were near as violent as the movies and novels made them out to be.
But what about that tumbleweed?
Well, that part of the story of The West is real. But at the time of the original cowboy, tumbleweeds were a new thing, never seen before in North America.
The tumbleweed is actually not just one kind of plant, and it isn't native to North America.
So what is it exactly, and where did it come from?
The tumbleweed is part of the plant that is above ground.
It holds the seeds.
That above-ground part dries out, dies, breaks off, and is carried by the wind, dropping seeds as it goes.
Many types of plants do this. But the tumbleweed type lives in parts of the world where the wind can roll the bush across many miles of open ground.
The tumbleweed dispersal strategies are unusual among plants; most species disperse their seeds by other mechanisms. Many tumbleweeds establish themselves on broken soil as opportunistic agricultural weeds. Tumbleweeds have been recorded in the following plant groups:
(Wikipedia).
In Western states like Wyoming, the tumbleweed actually came from Russia.
Russian immigrants in 1873 introduced it to the U.S. when it was used as a contaminant in flax seed.
Besides tumbling across the west the bush would also get stuck in and carried by wagon wheels.
They can cause a lot of problems.
An outbreak of Panicum effusum in the Australian town of Wangaratta in February 2016 attracted international attention.
On April 18, 2018, strong winds and neglected maintenance of neighboring private land brought in a very large number of tumbleweeds into Victorville, California, and about 100 to 150 homes required help from public services after their entryways were at least partly blocked off. (Wikipedia)
A similar incident occurred on December 31, 2019, when high winds dislodged a large number of tumbleweeds on the Hanford Reservation northwest of Richland, Washington. The tumbleweeds piled up 15 to 20 feet (4.6 to 6.1 meters) deep in some areas, burying cars and trucks and closing Washington State Route 240. (Wikipedia)
Hundreds Of Miles Of Tumbleweeds Trapped By Wyoming Fencing
Cheyenne Radio Studios Get Makeover
There are 5 radios stations located in downtown Cheyenne Wyoming. All are owned by Townsquare Meadia.
Technology has changed, and the offices needed a facelift, too.
Lets take a look as the old studios and offices are gutted and the new is built.
My name is Glenn Woods.
News Talk KGAB AM650 is one of the stations in Wyoming that carries my show,
Wake Up Wyoming.
I was in town for an event and had to broadcast from the KGAB studios one Friday morning.
Here is what it looked like.
More From Wake Up Wyoming