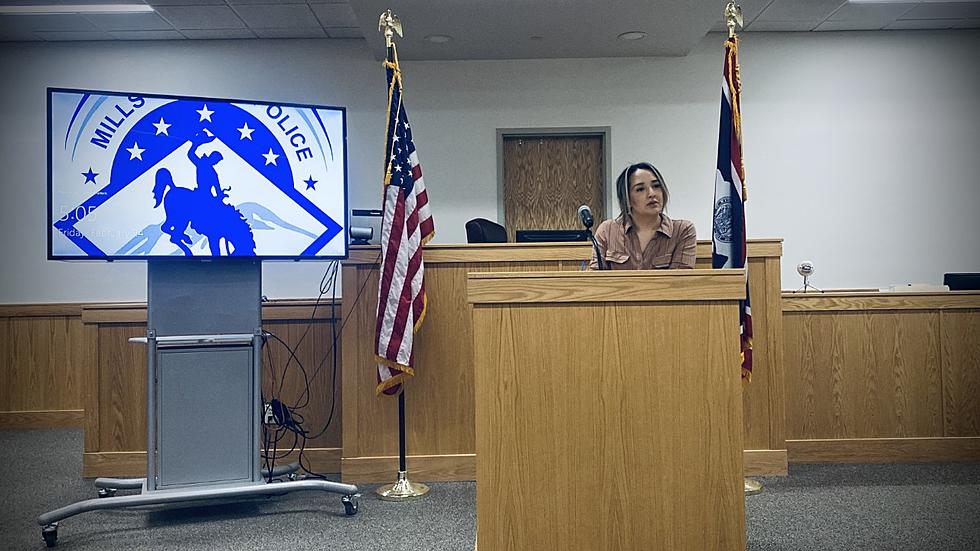 'Don't Touch Me!' – Bodycam Shows Mills Officer Assaulting Person
Nick Perkins, Townsquare Media
A  former Mills police officer who tased and punched a man in 2019, and the civil and criminal fallout, underscore the need for the Town of Mills to be more open to the public, its mayor said Friday.
"We're turning over a new leaf as far as transparency goes," Mayor Leah Juarez said.

On Aug. 31, 2019, Argel Sierra assaulted an as-yet-unidentified Mills resident, Juarez and officer Kate Acord said the day after a federal court hearing.
Thursday, Sierra pleaded guilty to a single felony count of "deprivation of rights while he was acting under the color of law" during a hearing before Chief U.S. District Court Judge Scott Skavdahl in Casper. Skavdahl set Sierra's sentencing for May 16.
Friday, Juarez, Mills Police Officer Kate Acord and town attorney Pat Holscher added more details when they spoke to K2 Radio News.
"I've called this press conference to discuss an issue that I inherited when I came into my role as mayor," Juarez stated. "I believe in transparency, and so, because of that, today I'll be sharing with you the full story of this incident."
Juarez said people may have heard about the confrontation between Sierra and a videographer victim with an antagonistic attitude toward Mills police since late 2018.
"I want to convey that Mills has always supported this individual's constitutional right to film police traffic stops," Juarez said.
"Over the years, this individual has become increasingly aggressive and hostile while filming traffic stops, to the point that residents were voicing concerns of safety. In one of our traffic stops, he can be heard telling the officer to 'Eat lead like Danny Dundas.' Among other explicit words, he often shouts directions to the occupants of the vehicles to not comply with the officers' requests," Juarez said.
That antagonism came to a head on Aug. 31, 2019.
The federal court case focused on Sierra's violation of a person's civil rights.
On the other hand, the Mills Police Department has produced a video telling its side of the story.
It used video from the victim's cell phone, a bodycam recording of the victim resisting arrest, and Sierra's use of force, Juarez said. Sierra himself had not activated his body cam.
"The officer acted outside of Mills' protocols when he used unnecessary force," Juarez said.
Acord  read a press release recounting that night's events.
After the confrontation, Sierra was placed on administrative leave, Acord said, reading from the press release. The Mills Police Department asked the Wyoming Division of Criminal Investigation to conduct a comprehensive "use of force" investigation. The report determined Sierra's behavior was not justified. The department also conducted its own investigation and came to the same conclusion, Acord said.
The department asked the Wyoming Peace Officer Standards of Training's director to review Sierra's peace officer investigation, and that, too, concluded Sierra's actions were improper.
"We want to reiterate that the Mills Police Department takes all matters of use of force very seriously, and is dedicated to serving its citizens with professionalism and the highest quality service," Acord said, reading from the press release.
Juarez then played the police department's video.
It first shows images from victim's cell phone. Sierra is seen and heard approaching the victim and asking him who he was and what he was doing.
"I don't answer questions," the victim said several times.
He began yelling as Sierra attempted to arrest him: "Don't touch me! Don't touch me! Don't touch me!"
Sierra told the victim repeatedly to 'turn around."
"You are on livestream right now," the victim told Sierra.
"Good!" Sierra replied. "Now they can see what you're doing."
[See the Mills Police Department video below for the rest of the altercation.]
After the video, Juarez responded to questions.
When asked about Sierra's background before joining the Mills Police Department, she said he was vetted for possible violent behavior, and that all officers go through the same background check.
When asked why nearly three-and-a-half years passed from the incident to the public knowing now, Juarez said nothing could be told because of a lawsuit filed by the victim against the town.
"I don't know if the papers have been signed yet, so we can't officially talk in any more detail on that, but that's what took the longest," she said.
When pressed about why the town or the police department didn't put out a statement immediately after the incident, Juarez reiterated that transparency was the point.
"I'm not gonna talk [about] the last administration or the decisions or lack thereof to talk about it publicly, but I feel that it's in the best interest of the people that we serve to talk about these things, whether they be good or bad in light," Juarez said. "But again, you're dealing with an investigation and you really shouldn't be talking about it publicly when something's being investigated, because it can skew the results."
Holscher said the Mills Police Department turned over the investigation to the DCI the day after the incident.
Likewise, he said he didn't know when the DCI turned the case over to the Wyoming U.S. Attorney to prosecute Sierra in federal court.
However, Holscher was told the Casper Police Department issues statements about officer-involved shootings within hours of such events. Even if such an investigation is turned over to the DCI, which is tight-lipped about its investigations, the public still knows something.
Juarez responded this is the sort of transparency she wants for Mills.
Video of the press conference, as well as the bodycam and cellphone recording of the event, can be seen below. There is explicit language and viewer discretion is advised. The footage of the event begins at the 4:21 mark:
Code Of The West: Wyoming State Code of Ethics
"The Code of the West" was declared the official state code of Wyoming, and the act was signed into law on March 3rd, 2010. Wyoming is the first state to adopt a code of ethics. The legislation chose ten ethics derived from the book "Cowboy Ethics" by James P. Owen
More From Wake Up Wyoming