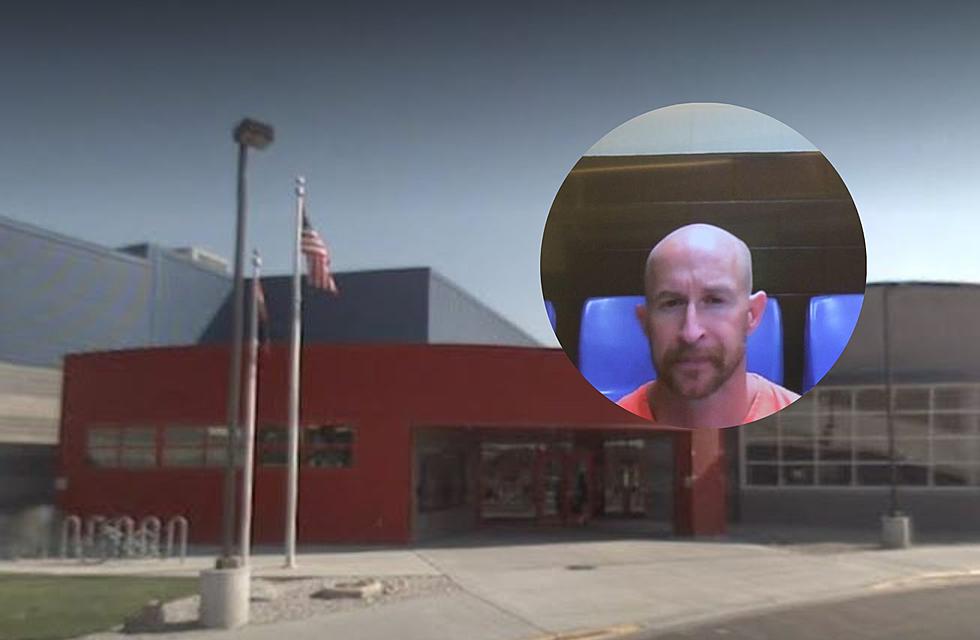 Boys & Girls Club of Central Wyoming Dodge Questions About Hiring a Felon
Boys & Girls Club of Central Wyoming, Google Maps; Daniel Uptain appears in Natrona County Circuit Court by video, TSM.
Written by Tom Morton:
The Boys & Girls Clubs of Central Wyoming asserted its commitment to high ethical standards after it recently dismissed an employee accused of six child sex-related crimes.
Hours after K2Radio News published a story on former employee Daniel Joseph Uptain, the Boys & Girls Clubs issued a statement saying it does not tolerate inappropriate or illegal behavior on the part of any staff, volunteer, or youth member, adding:
"All employees and volunteers must undergo a thorough criminal background check prior to hire and annually, and all supervisory policies are designed to ensure the maximum safety and protection of Club members and staff."
In Uptain's case, that criminal background check wasn't thorough enough.
Natrona County Clerk of District Court records detail Uptain's criminal record including convictions for forgery, grand theft (for vehicles) and burglary — all felonies in three separate cases, one of which was a multi-state vehicle-theft spree.
District Court judges sentenced him to terms of six-to-10 years in prison, and seven-to-10 years in prison for the crimes in these cases, and they were to be served consecutively to the sentence handed down in Yellowstone County Montana District Court.
The Central Wyoming Boys & Girls Clubs declined to answer questions about its hiring policies, what research is done for background checks, whether they hire felons and -- if so -- what kinds of felons are acceptable as employees.
Instead, it sent this prepared statement:
"The safety and protection of the young people we serve is always our absolute highest priority, and we take any situation that might impact their well-being very seriously. Because all personnel matters must remain confidential, we are unable to provide information involving details of employment for any current or former staff. Our commitment to our Club members, their families, and our community is unwavering."
The first of Uptain's three felony cases was filed on May 9, 2006, when a Casper police officer responded to a report of a residential burglary and an unauthorized use of a vehicle, according to an affidavit supporting the charging documents.
A man reporting the burglary told the officer that he had been watching a house on Boysen Street for a friend, found a window had been broken in the back of the house, and later learned that Uptain had been driving a 2006 Hummer belonging to the homeowner.
Uptain told the officer that he had been given permission by the homeowner to drive the Hummer, which the homeowner denied.
On May 17, a woman reported that a rent check she placed in the drop box of her apartment complex had been altered and deposited in an account of Uptain's at a local bank.
Uptain eventually confessed that he lied to the police about stealing the Hummer and the check.
He was charged with burglary and forgery.
In May 2007, Uptain was in detention at a jail in Anaconda, Montana, according to court documents.
A year later, Uptain entered a plea deal in which the prosecution agreed to dismiss the burglary charge in exchange for a guilty plea to the forgery charge.
The first of those two other cases was reported in a criminal information document on Oct. 3, 2006, when the Natrona County District Attorney's Office charged Uptain with a burglary that occurred on May 22-23, 2006.
That was 13 days after the first burglary/forgery case, according to court documents.
Uptain pleaded guilty to that crime.
The third felony started on June 2, 2007, when a Casper police offers received a report from a man who said someone took his pickup valued at $40,000 from the parking lot of the Old Chicago Pizza restaurant on East Second Street. The man later reported that he had his checkbook in the pickup and someone had written a number of checks on his account without his permission. One of those checks was to Ghost Town Truck Stop in Natrona County, according to court documents.
On June 9, an officer responded to a report from White's Mountain Chevrolet about a stolen truck. Sometime on the night of June 7, someone cut the lock to the yard and took the 2006 Chevrolet pickup valued at $43,000.
Also on June 9, a Casper police officer received a report that the pickup stolen at Old Chicago Pizza had been found in Bridger, Montana. The officer contacted a Big Horn County Sheriff's deputy and requested a report about the vehicle. The deputy said Uptain was in custody because he had been involved in several other vehicle thefts in Montana.
The affidavit supporting the charging documents says the deputy read Uptain his rights and agreed to talk.
Uptain recounted stealing the truck from Old Chicago Pizza and forging the check to Ghost Town Truck Stop.
He then drove to Thermopolis, where he wrote several more checks.
On June 5, he left the truck in in Billings, hitchhiked back to Casper, stole the truck from White's Mountain Chevrolet, drove back to Billings, stole another vehicle and was caught by authorities in Montana.
Uptain said he drove the 2006 Chevrolet pickup to the Fly Creek exit between Billings and Hardin where he became high centered and got stuck.
For the crimes committed in Wyoming, Uptain was charged with two counts of grand larceny and one count of forgery.
One Man's Trash is Another Man's Treasure
Touring the City of Casper Landfill. 26 July 2023.
Casper Balloon Roundup. Casper, Wyo., 7/28/23
More From Wake Up Wyoming