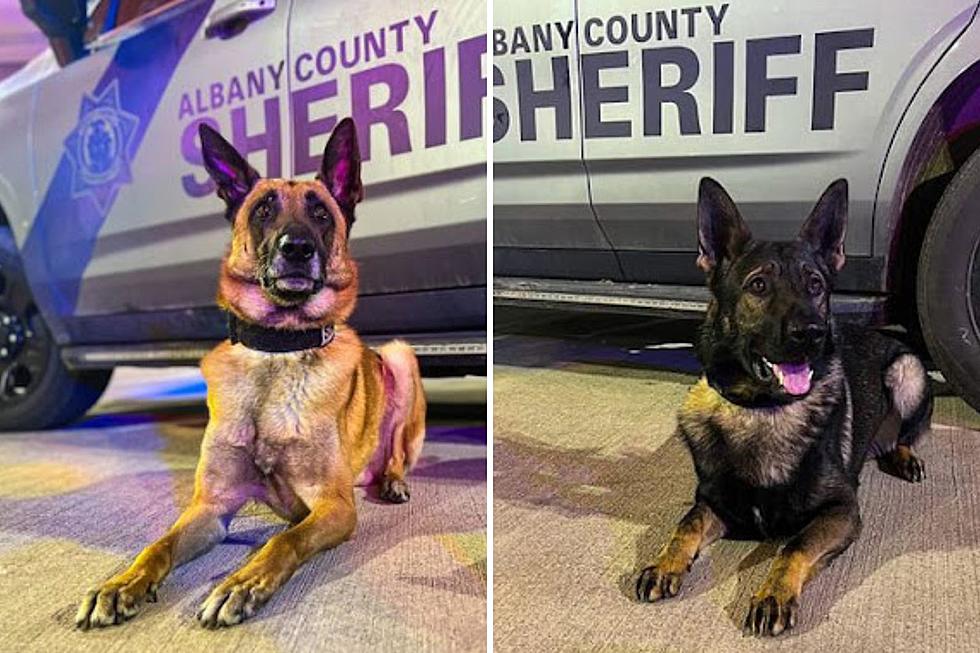 Albany County Sheriff K-9s Receive Drug Overdose Protection
Albany County Sheriff's Department via Facebook
Opioid overdose deaths continue to rise steadily, with NPR reporting a 15% rise in 2021 from 2020. As the crisis escalates, new victims are being claimed: animals. Some of the most at risk are law enforcement K9s, who are often charged with detecting the presence of drugs in highway stops.

Thankfully two Albany County Sheriff K9s, Diego and Mattes, received donations of life-saving Narcan from Protection4Paws, a nonprofit focused mainly on donating heat exhaustion alarm systems. 
Recent instances of K9 overdoses have made administering the life-saving drug to dogs necessary. 
In October of 2016, three K9s "inhaled trace amounts of fentanyl powder in carpet fibers and overdosed in the line of duty" (Journal of the American Animal Hospital Association) and were luckily resuscitated with naloxone, the generic name for Narcan, an opioid antagonist used to reverse the effects of opioids on the brain. 
Currently, there isn't a mandatory reporting system or national database to track K9 overdoses.
In April, Wyoming Highway Patrol made a drug arrest east of Rock Springs, where K9 Becky confirmed the presence of "thirteen ziplock baggies of suspected methamphetamine weighing approximately 11.5 pounds, 3.7 pounds of suspected marijuana, two THC vape cartridges, one pack of edibles, thirty-seven Adderall pills, two thousand 2,186 Fentanyl M30 pills weighing approximately 185.3 grams" according to WyomingNewsNow. 
WHP K9 Frosty, who retired in April, saw a career where he assisted the seizure of "3,069 pounds of marijuana, 7 pounds of cocaine, 119 pounds of methamphetamine, 29 pounds of heroin, 1 pound of other drugs," according to the Cheyenne Post. 
It's increasingly important to keep law enforcement canines safe - thank you to Protection4Paws for the vital donation, so Diego and Mattes can continue serving Albany County with better protection. 
10 Tips to Keep Cool During Wyoming Summers
Suffering through Wyoming's hot weather and heatwaves can pose a risk to your health. The good news is, that there are a lot of ways to beat the heat and its effects.
More From Wake Up Wyoming