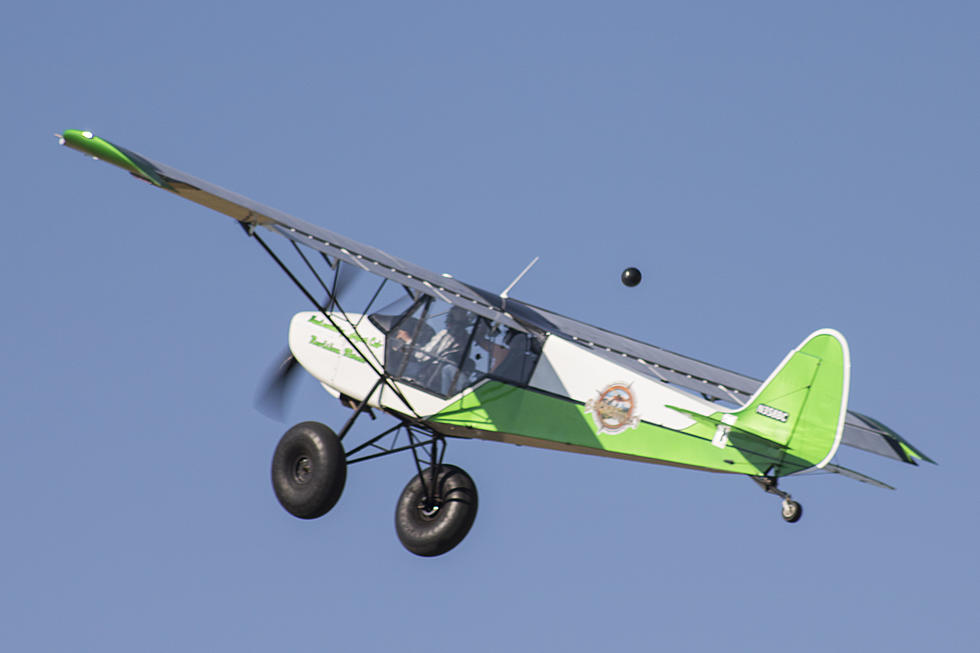 Pilots Rodeo Comes To Wyoming This Weekend
Phots By Tim Mandese
The event is Short Take Off And Landing, or STOL.
For pilots wanting to fly into some of the most remote parts of states like Wyoming, it's important to know how to land and take off, in the shortest possible distance.
A "bush plane" is most commonly used as the best machine for the job.
These are small, light planes, usually 2-seater.
Big tires up front, small wheel on the tail. (Pilots call them tail draggers).
Just as cowboys of old Wyoming loved to get together to see who was the best at roping and breaking a horse, pilots like to get together to see who is best at back-country flying.
Think of it as a pilot's rodeo.
One of the competitions is to see who is best at the art of the S.T.O.L..
This weekend you can see just such a competition in Pinedale Wyoming.
Join us at Ralph Wenz Field (Pinedale, WY) on August 12 for Rocky Mountain STOL! Experience the fun and excitement of a short take off and landing competition.

Save $$ and purchase your tickets in advance!

Visit nationalstol.com/rockymountainstol for full event information.
What these pilots can do with these backcountry airplanes will astound you.
Flying like this takes a lot of skill, and that means a lot of practice.
So who's the best "pilot cowboy" in Wyoming?
We might just find out at this event.
If you've ever seen a stole competition, watch the video below, then go see it in person.
But let's not stop there.
Let's have a look a why these pilots work so hard to perfect these skills.
You can find a lot of great back-country videos on YouTube.
Here is one we feature a while back about a pilot who came to Wyoming just to fly some of our canyons.
Flying like this is not for everyone.
When traveling through Wyoming it's important to see things from every possible angle, for full effect.
Drive it, bike it, hike it, river raft it, fly over it.
Eaton Ranch is west of Sheridan Wyoming, in an area called Wolf Wyoming.
The ranch was holding a wedding, and this wedding guest decided to fly his bush plane to the event.
WOW - what a beautiful flight.
He flew over snow-capped mountains and down river-filled canyons.
He even landed in a green pasture with red cliffs overlooking it.
Hang on to something while you're watching this.
This guy is into some wild flying, and you won't believe where he lands and takes off from.
Flying a small plane like this over Wyoming can be bumpy.
You'll see his little plane rocking around as he goes exploring.
The middle of this video is a tour of the beautiful Eaton Ranch and the land around it.
Then, he takes us flying again.
Hang on for the drip down the middle of a twisting, winding canyon.
He cuts it close to the sides and the bobs and weaves through.
You might find yourself mumbling "ARE YOU NUTS," a few times.
But the view is amazing.
Then it lands in grassy fields again and takes off from the tops of bluffs to reveal the valley way below.
If you're not into flying, that's okay.
These are places you can still get to by car.
This Wyoming spring is going to be green with a massive bloom of spring wildflowers.
Take some time, go see it.
WOW! Look at where he parked his plane!
Then he took off from there.
Wyoming's Best Pilots Astound At The Glendo Fly-In 2021
An Airplane Factory In Douglas Wyoming? Who Knew?
More From Wake Up Wyoming