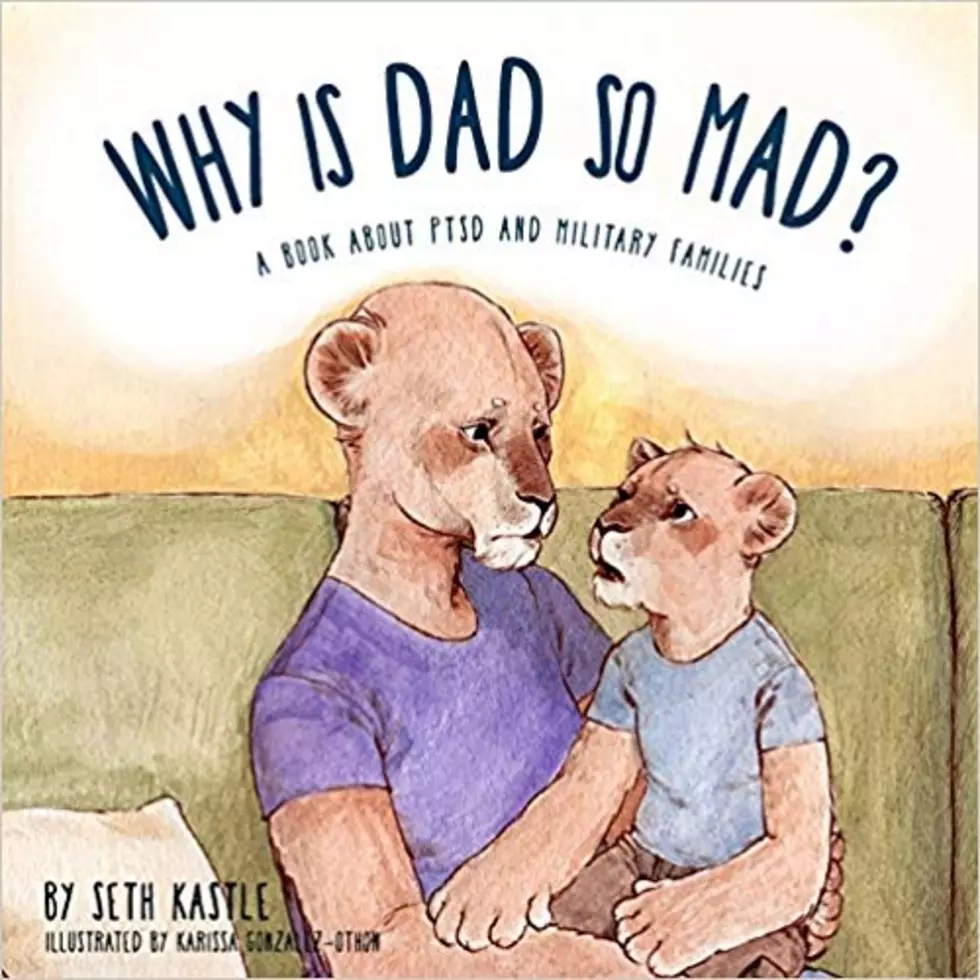 This Children's Book About PTSD Could Help Wyoming Families
Amazon.com
Post-traumatic stress disorder (PTSD) may occur after someone experiences severe trauma or a life-threatening event. While it is normal for the mind and body to be in shock after a traumatic event, this response becomes PTSD when the nervous system gets "stuck" in the intense emotional state of shock.
PTSD in active military and our veterans is common and can have a huge impact on their ability to maintain relationships with friends and family members.
And, it's not just our military that can suffer from PTSD, first responders and our law enforcement experience PTSD in higher numbers than many other professions.
Eventually, they found a form of therapy that worked for them, but Kastle still struggled with how to talk to his daughter about his PTSD and how it impacted his ability to parent her in the way he wanted.
The result was a picture book "Why is Dad so Mad?" that Kastle wrote to help explain PTSD to his young daughter.
"Why is Dad so Mad?" is a narrative story told from a family's point of view (mother and children) of a service member who struggles with PTSD and its symptoms. Many service members deal with anger, forgetfulness, sleepless nights, and nightmares. This book explains these and how they affect Dad. The moral of the story is that even though Dad gets angry and yells, he still loves his family more than anything.
According to the reviews on Amazon.com this book has been extremely helpful. Many of the reviews brought me to tears, but I wanted to share one with you.
I have an 8 year old son. His father and I are not together. His father has deployed twice. He has anger and drinking issues, which is very hard for my son. My son is scared of him and worried and loves him. I know his dad loves him dearly but he has as the book illustrates, a fire inside of him. I have tried to explain to him why his dad says and does the things he does, that his dad's anger is not his fault, however I never felt confident that he really understood me. I saw this book posted on Imgur and bought it. I've found my son reading this on his own and he has started asking questions about his dad and his service overseas. For the first time, my son is understanding that his dad's anger is not his fault. I believe a weight has been lifted from him and I see a happier child. There is still a very difficult road ahead, but I am beyond grateful that Mr. Kastle wrote the book. He has ignited a healing in my son in only 19 pages.
Kastle has also published a companion book "Why is Mom so Mad" that can be purchased from Amazon.com.
If you or someone you love are struggling with PTSD there are both national and local resources available.
National Center for PTSD – A resource for veterans with PTSD and their family members. (U.S. Department of Veterans Affairs)
More From Wake Up Wyoming