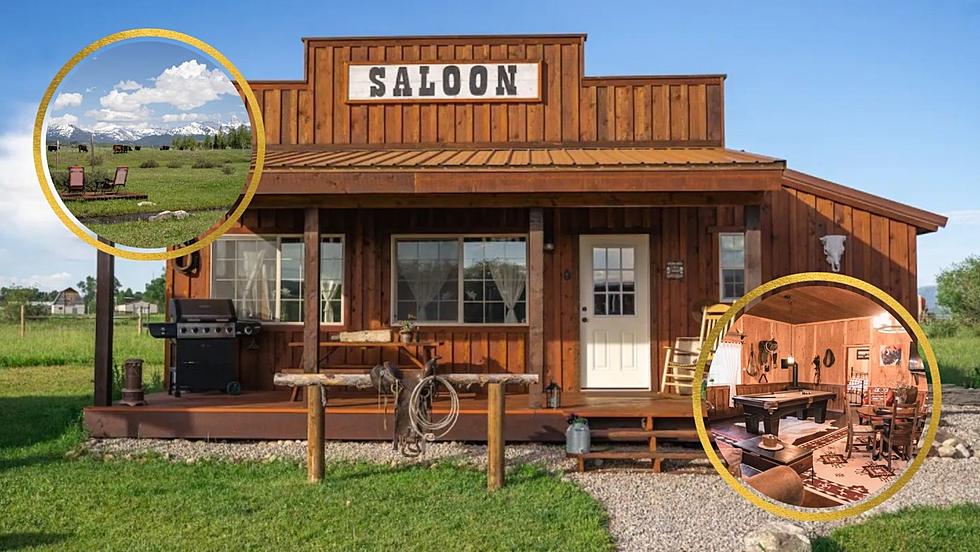 This Stunning Airbnb is a Real Western Saloon with Teton Views
Entire cabin hosted by Ashley, Airbnb/Canva
If you'd really like to check all the boxes for an epic stay at an Airbnb with iconic Wyoming views, I have found a whopper. It's a real western saloon that has Teton views. There's only one small catch.

This is the Western Saloon with Teton Views hosted by Ashley. Before I show you some pics, here's how Ashley describes this unique setting:
Beautiful Western saloon located on a 10 acre property in the Teton Valley. Guests can enjoy stunning sunsets and sunrises at this fun and unique accommodation. This spacious, one bedroom saloon has a plush queen bed, pull-out couch, cozy fireplace, and pool table. Enjoy lounging in the saltwater hot tub, or having a fire under the stars...
Check out this Airbnb that just screams Tombstone, Unforgiven and all things wild, wild west.
This Stunning Airbnb is a Real Western Saloon with Teton Views
Now, about that one "catch". This Western Saloon Airbnb with iconic Wyoming settings and views is located in...Idaho. Tetonia, Idaho to be specific. That's not a bad thing, but it does mean a bit more of a drive into the land of Napoleon Dynamite. Worth it? Oh, yeah. Even with a cost of $266 per night, I'd take that in a heartbeat if I had the cash to stay in a place that is as western as it gets.
This Wyoming Airbnb is at the Base of Devil's Tower
You Can Stay in This Chic Dome in Wyoming's Guernsey State Park
More From Wake Up Wyoming