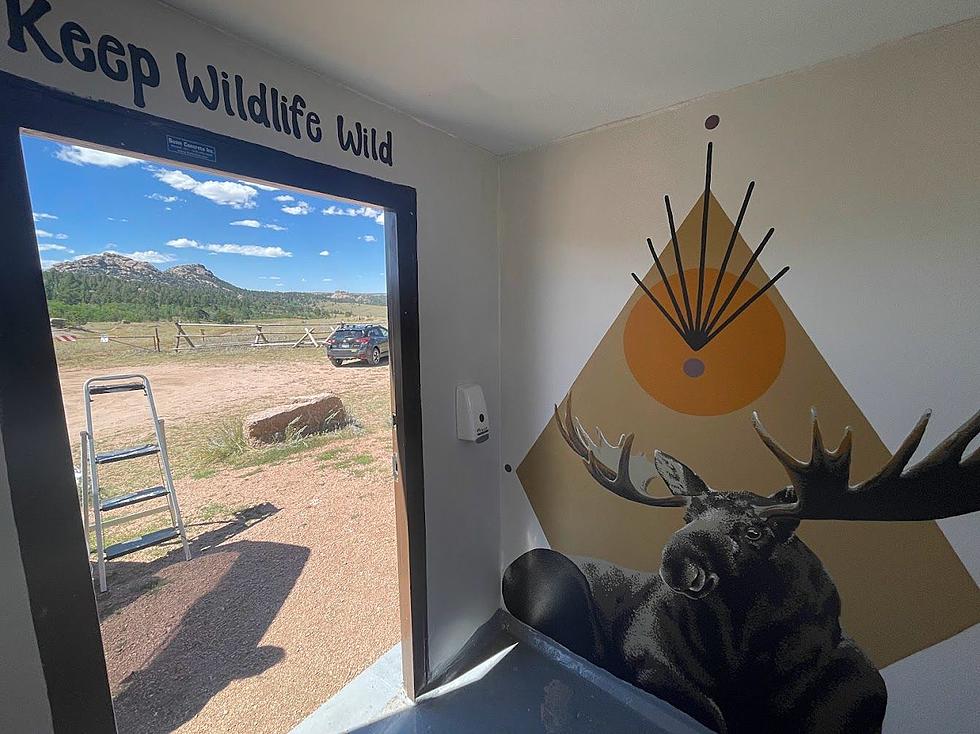 Vedauwoo Potty Painting Party Unveils Restroom Murals
Laramie Public Art Coalition/Laura McDermit
Your nature bathroom break just got a lot prettier. 
A couple of restrooms have been painted for pleasure, and as a reminder to "Recreate Responsibly," the theme of Visit Laramie's "Cowboy Code of Ethics" when enjoying our great outdoors. 
In Arizona, the Bureau of Land Management began a program utilizing murals to mitigate graffiti on public lands. Hearing about the program, the US Forest Service Laramie Ranger District reached out to Laramie Public Art, who then reached out to Visit Laramie (who provided the funds) and bedazzled bathrooms happened. 
Laura McDermit, Executive Director of Laramie Public Art, said the Forest Service selected the two locations, both near Vedauwoo on Pole Mountain. One is the Nautilus parking area and the other is Reynolds Hill. 

The Laramie Public Art Coalition selected the two artists, as they were "impressed with both of the artists' previous work," McDermit said. 
"The committee got a real kick out of a funny drawing of ungulate bums by artist Rhiannon Jakopak," McDermit said, "And artist Olivia Ewing's realistic animal paintings were a hit around the table. These vault bathroom artworks are the first murals for both of these artists, which is super exciting!" 
Given the prompt of "Responsible Recreation," each artist was then free to create murals that captured an element of that code. Jakopack's vault is called "We Share This Space," and Ewing's vault is called "Joy of Discovery."
The "Cowboy Code of Ethics" details how outdoor enthusiasts can be respectful and responsible when sharing public spaces and the outdoors, so the artists designed their murals accordingly. 
"Each artist painted both sides of their vault with something different," McDermit said. 
Potty Painting Party
The US Forest Service Laramie Ranger district decided to prettify its potties. The restrooms at two highly used camgrounds in the Medicine Bow National Forest near Vedauwoo were chosen to showcase "Responsible Recreation" themed art.
More From Wake Up Wyoming