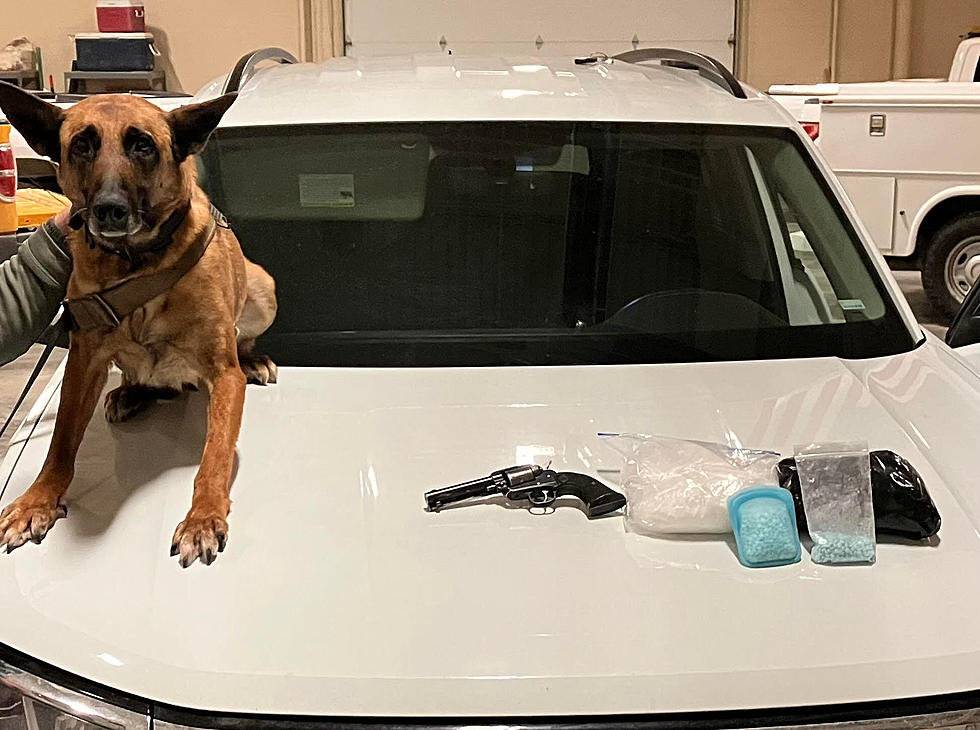 Wyoming Highway Patrol K-9 Assists in Major Fentanyl/Meth Bust
Photo Courtesy of Wyoming Highway Patrol
A K-9 Officer and its trainer recently assisted the Wyoming Highway Patrol with a major fentanyl bust.

The Wyoming Highway Patrol announced on Friday that a K-9 Handler was requested to assist Special Agents with the Wyoming Division of Criminal Investigation on Thursday evening.
That's according to a press release from the WHP, which stated that Special Agents made contact with an individual at a gas station near Evanston, Wyoming and became suspicious.
"The WHP Trooper arrived and deployed his K-9 partner," the release stated. "The handler observed a positive, trained final response to the odor of drugs inside the vehicle. a vehicle search resulted in the trooper seizing 1,349 M30 fentanyl pills, 3.89 pounds of methamphetamine, and a pistol."
The release noted that the suspect was a convicted felon and was not allowed to have firearms. The release also stated that Agents believed that the drugs were being transported to various communities within Wyoming.
"This case marks the first significant fentanyl seizure since the WHP K-9 teams were trained and certified on fentanyl two weeks ago," the release said.
Here's What Wyomingites REALLY Think About The Wind
The wind is officially here to stay (for the next 6 months) and we asked our listeners to tell us what they REALLY think about the wind.
More From Wake Up Wyoming