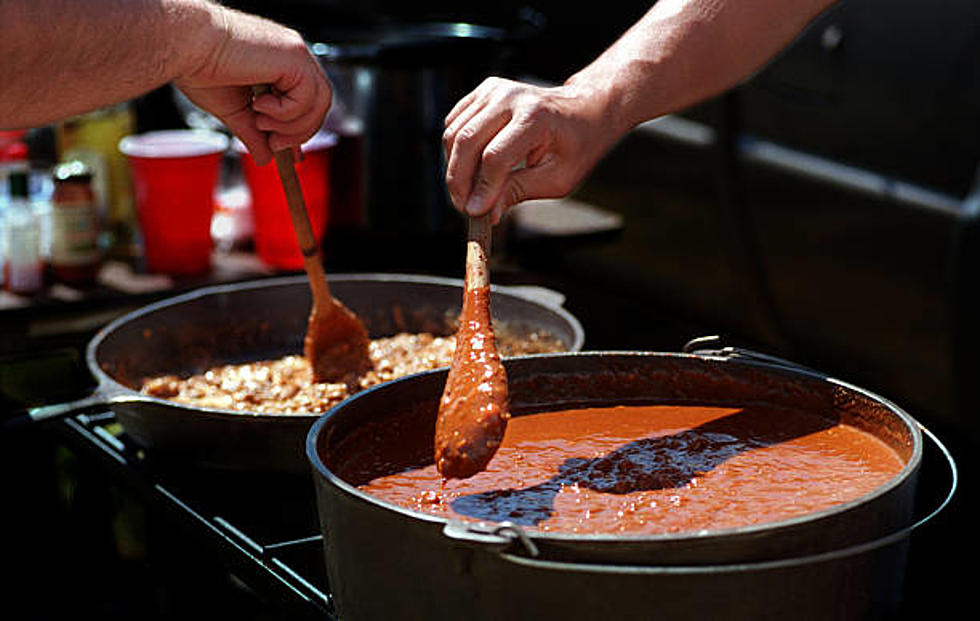 Wyoming's Famous Chugwater Chili Cookoff Is This Saturday
Los Angeles Times via Getty Imag
About 45 miles north of Cheyenne, it will be well worth the drive to check out one of the spiciest events of the year (pun intended).
Each year thousands flock to this festival from not only Wyoming but surrounding states as well.
Visitors and chili connoisseurs alike can taste the chili, compete against others to see if their chili has what it takes to rank up there with the best, and also enjoy some live music.
The entire family is invited out this year as there will be lots of festivities for all ages.
Dare to enter the hot chili pepper eating contest.
Kids can DIVE into the pie eating contest.
The event is recognized by the Chili Appreciation Society and whether you want to celebrate it, taste it, or cook it, you're welcome. There's also a People's Choice Award at stake.
The Chugwater 5K is also happening for the first time. Chugwater School will be the host and the starting point for the race. Registration for the race is $35 and those interested can sign up here. The race will begin at 8 a.m. and all proceeds from the race go directly back to Chugwater School.
A car show with trophies.
Plenty of games and crafts as well as their newly updated playground for the kids.
Lots of food and product vendors on hand for plenty of shopping to do.
There is also a beer tent for the adults!
Cowboys and cowgirls from around the area can compete at the Ranch Rodeo. Scheduled events as part of the rodeo include calf branding, wild cow milking, steer doctoring, and trailer loading.
Festivities will kick off at approximately 9 a.m. at Staats Park in Chugwater.
The rodeo will end roughly around 8 p.m. and visitors are encouraged to stick around in town for some dancing at the Stampede Saloon.
You can purchase tickets for just $20 per person, which gives you access to all events mentioned.
Visit the Chugwater Chilli Cookoff website at this link for more information or to pre-purchase tickets.
Glenn Woods, from Wyoming's morning radio talk show Wake Up Wyoming, will be hosting the event and signing books.
Chugwater's Hysterical Pie Eating Contest.
One of Wyoming's smallest towns added a new event. A PIE EATING CONTEST.
The rules are simple:
Not hands allowed.
Eat as much as you can before time is up.
The results are hysterical.
THE HISTORY & REBIRTH OF CHUGWATER WYOMING
Painful To Watch, Chugwater Rodeo Rider Caught Under Hoof
Harding ridding at the 2021 Chugwater Chili Cookoff in Chugwater Wyoming
More From Wake Up Wyoming